This week in The Criterion
The latest edition of The Criterion has been printed and is on its way to subscribers! But with this e-newsletter, you'll get a preview of that issue -- and access to certain stories right now.
The contents of this newsletter are:
A listing of the full contents of the print edition
News stories available right now
Web-only features
National and world news you may have missed

(To view this newsletter online, click here)
February 17, 2017 issue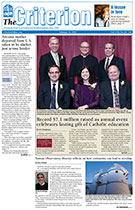 Full Content Preview
Local stories:
Record $7.1 million raised as annual event celebrates lasting gift of Catholic education

Spirit of caring, love of faith are evident in CCSV award winners

Vatican Observatory director reflects on how astronomy can lead to worship

Faith and science need not be in conflict, says Jesuit brother and astronomer

Priests join event opposing immigrant and refugee discrimination
Bill would add abortion reversal pill to informed consent law
Book shares couple's story of courage, faith through terminal illness
Indiana Catholic Women's Conference set for March 25
Regular local features:
The Face of Mercy: Pope Francis reaches out and seeks to engage young people

El rostro de la misericordia: El papa Francisco busca acercarse a los jóvenes

Editorial: Living in our post-Christian culture
From the Editor Emeritus: A fact-finding trip to the Middle East 35 years ago
That All May Be One: Nation can follow example of civility among faiths
Worship and Evangelization Outreach: Discipleship is at the heart of SPRED community
Letters to the Editor

No letters were printed this week

Events Calendar

Lenten program to focus on Merton's last book; registration deadline is Feb. 27
Movie about Medjugorje to be shown on March 7 at Glendale Theater in Indy
The Cross and the Light performances in Carmel, Ind., on March 10-12
Providence Associate application process is open through May 31

Obituaries

General listing
Benedictine Father Gavin Barnes taught, directed dramas with students for decades

My Journey to God: Living in Harmony with Others
Catholic News Service:
Arizona mother deported from U.S. taken in by shelter just across border
Stalled action on proposed religious freedom order raises concerns
Health care is not a business, but a service to life, Pope Francis says
World needs women, not for what they do, but who they are, Pope Francis says
Catholic Charities agencies eye layoffs over uncertainty on refugees
Vatican canon law official's booklet explains provisions of 'Amoris Laetitia'
At audience, pope leads prayers for migrants, trafficking victims
Vatican releases updated, expanded guidelines for bioethical questions
Be Christians of substance, not appearance, pope says at Angelus
Column: The age of noise
Column: President should look at Washington's Farewell Address
The Sunday Readings: Seventh Sunday in Ordinary Time
Question Corner: Refrain from work, other activities that prevent proper worship on Sundays
FaithAlive!
Natural family planning respects God's plan for married life, love
God through natural law calls married couples to responsible parenthood
Available Right Now
Record $7.1 million raised as annual event celebrates lasting gift of Catholic education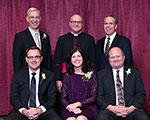 During a celebration when it was announced that a record $7.1 million has been raised in the past year to help children receive a Catholic education in the archdiocese, keynote speaker James Danko shared a poignant tale of how the world can be changed through the faith-filled actions of one person. Danko then shared two telling stories about his uncle with the 600 people who attended the 21st annual Celebrating Catholic School Values event in Union Station in Indianapolis on Feb. 9. (Page 1)
Read our news story

Vatican Observatory director reflects on how astronomy can lead to worship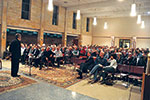 From the outside, it almost looks like a church. It's a rectangular building with tall walls and a large dome at one end of its roof. On the inside, Jesuit Brother Guy Consolmagno enters into worship of God on a regular basis, but not while kneeling before an altar at Mass. The building houses the Vatican Advanced Technology Telescope on Mount Graham in southern Arizona, which is part of the Vatican Observatory, one of the world's oldest astronomical research institutions. Brother Guy, its director, spoke about the work of the observatory, the Church's promotion of scientific research over the centuries and the intersection of faith and science in a Feb. 7 presentation titled "The Heavens Proclaim: Astronomy as Worship" at Brebeuf Jesuit Preparatory School in Indianapolis. (Page 1)
Read our news story
Web-only features
Browse our Online Archives by Topic
Beginning with our issues dated January 2008 and later, we have organized listings of our news stories by eight popular or common topics. By going to our online archives, you can now look at collections of stories that are related to: Catholic Education, Family Life, Catholic Charities, Liturgy/Spiritual Life, Youth Ministry, Vocations, Pro-Life and Legislation/Indiana Catholic Conference.
Go to the topical archives
National and world news you may have missed...

Here's a sampling of some news stories that ran on our website this past week or so that you may have missed.
Click the headline to see the story:
© The Criterion 2017 | To unsubscribe, click here
(Please note: Parishes on this list cannot unsubscribe)
1400 N. Meridian Street, Indianapolis, IN 46202
317-236-1577 | 800-382-9836, ext. 1577
webmaster@archindy.org