This week in The Criterion
The latest edition of The Criterion has been printed and is on its way to subscribers! But with this e-newsletter, you'll get a preview of that issue -- and access to certain stories right now.
The contents of this newsletter are:
A listing of the full contents of the print edition
News stories available right now
Web-only features
National and world news you may have missed

(To view this newsletter online, click here)
April 20, 2018 issue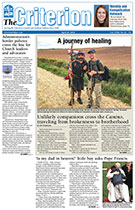 Full Content Preview
Local stories:
A journey of healing: Unlikely companions cross the Camino, traveling from brokenness to brotherhood
Msgr. Stumpf to lead pilgrimage to shrines in France this fall
Century-old Holy Trinity bells find new home at St. Malachy
New culinary training program hopes to transform the lives of women
From the Archives: New church construction in Mitchell
Regular local features:
Christ the Cornerstone: The Good Shepherd lays down his life for us

Cristo, la piedra angular: El Buen Pastor da la vida por nosotros

The Face of Mercy: The Lord's Prayer brings us closer to Holy Trinity

El rostro de la misericordia: El Padre Nuestro nos acerca más a la Santísima Trinidad

Editorial: Does hell exist? What about heaven?
From the Editor Emeritus: A harrowing plane ride to Buenos Aires back in 1974
That All May Be One: 2018 Interfaith Ambassadors build bridges with dialogue
Worship and Evangelization Outreach: 'Be not afraid' to evangelize, welcome those fallen away
Investing with Faith: Let spring inspire your spirit as well as your senses
Public Schedule of Archbishop Charles C. Thompson
Letters to the Editor

No letters were printed this week

Events Calendar

Right to Life of Indianapolis to host day of prayer and protest on April 28
Pilgrimages honoring the Blessed Mother to be held Sundays in May in St. Meinrad
K of C golf outing on May 14 to benefit Pregnancy Care Center in Lawrenceburg
Sidewalk Advocates of Indianapolis to host training seminar on May 5
Program matches seniors age 55 and older with volunteer opportunities

Obituaries
My Journey to God: Follow Me
Catholic News Service:
Administration's border policies cross the line for Church leaders and advocates
'Is my dad in heaven?' little boy asks Pope Francis
Successor to civil rights leader urges unity in Baltimore sermon
Manila Archdiocese receives relic of St. John Paul II's blood
Fifty years after release, 'Humanae Vitae' praised as prophetic
Artificial contraception, abortion have damaged society, say speakers
Respect life of severely ill patients like Alfie Evans, pope says
Retired Pope Benedict celebrates 91st birthday
Chilean abuse victims welcome pope's letter, call for zero tolerance
Column: "Cowboys," infertility and deeper moral questions
Column: Spring offers opportunity to develop virtues of gardening
The Sunday Readings: Fourth Sunday of Easter
Question Corner: Mother Angelica lived Gospel commission to make disciples
FaithAlive!
Sense of the faithful helps preserve Church teaching
Catholics grow in knowledge of the faith with the help of the Church
Available Right Now
A journey of healing: Unlikely companions cross the Camino, traveling from brokenness to brotherhood
Mark Peredo knew he had to do something drastic. He had just returned from a journey that many people consider the trip of a lifetime—a journey that often restores a sense of peace, healing and spirituality to a person's heart and soul. Yet after his 27-day, 600-mile walking pilgrimage across the Camino in France and Spain in late 2016, all that Peredo felt was a lingering combination of anger and brokenness. He was still trying to come to terms with the recent death of his father, who had always been his best friend. And he was still trying to completely recover emotionally and physically from the horrific accident in 2015 that nearly killed him. (Page 1)
Read our news story

Century-old Holy Trinity bells find new home at St. Malachy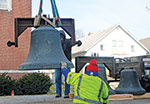 For 107 years, the three bronze bells of Holy Trinity Church on Indianapolis' west side called local Catholics to worship. But the bells of the Slovenian-founded parish fell silent on Nov. 30, 2014, when the faith community was merged with nearby St. Anthony Parish. For more than 50 years, former Holy Trinity parishioner Paul Barbarich listened to the bells—and sometimes rang them. With a few tears in his eyes, Barbarich, 58, watched as the 600-, 900- and 1,800‑pound auditory icons were removed from their tower on March 14. He shared his thoughts with The Criterion as a large crane extracted the bells one by one. (Page 10)
Read our news story
Web-only features
Browse our Online Archives by Topic
Beginning with our issues dated January 2008 and later, we have organized listings of our news stories by eight popular or common topics. By going to our online archives, you can now look at collections of stories that are related to: Catholic Education, Family Life, Catholic Charities, Liturgy/Spiritual Life, Youth Ministry, Vocations, Pro-Life and Legislation/Indiana Catholic Conference.
Go to the topical archives
National and world news you may have missed...

Here's a sampling of some news stories that ran on our website this past week or so that you may have missed.
Click the headline to see the story:
© The Criterion 2018 | To unsubscribe, click here
(Please note: Parishes on this list cannot unsubscribe)
1400 N. Meridian Street, Indianapolis, IN 46202
317-236-1577 | 800-382-9836, ext. 1577
webmaster@archindy.org