This week in The Criterion
The latest edition of The Criterion has been printed and is on its way to subscribers! But with this e-newsletter, you'll get a preview of that issue -- and access to certain stories right now.
The contents of this newsletter are:
A listing of the full contents of the print edition
News stories available right now
Web-only features

(To view this newsletter online, click here)
October 20, 2017 issue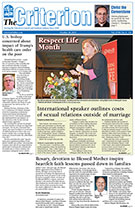 Full Content Preview
Local stories:
Respect Life Month: International speaker outlines costs of sexual relations outside of marriage

Right to Life dinner celebrates 'lifesavers' and drop in abortions
Chastity speaker conceived through rape finds home in Church

Rosary, devotion to Blessed Mother inspire heartfelt faith lessons passed down in families
November talks on pre-planning funeral Mass, leaving legacy set
St. Martin de Porres Mass celebrating multicultural saint is set for Nov. 3
Archbishop says appeal 'brings hope to people society pushes aside'
Faith of Lawrenceburg parish endures through 175 years
From the Archives: Senior citizen dinner in Connersville
Regular local features:
Christ the Cornerstone: Marian pilgrimages are good for the soul

Cristo, la piedra angular: Las peregrinaciones marianas reconfortan el alma

Editorial: We must welcome the stranger
From the Editor Emeritus: How the Pill affected Catholic married women in the 1960s
That All May Be One: Reflection on Compostela leads to statement on the way to unity
Worship and Evangelization Outreach: Commission assists archbishop in guiding parishes in building, renovating churches
Be Our Guest: More volunteers needed to bring light of Christ into prison ministry, inmate says
Public Schedule of Archbishop Charles C. Thompson
Letters to the Editor

Column about assisting those in need should be shared in parishes, schools

Events Calendar

CYO Football Alumni Reunion set for Nov. 4 at Colts practice facility
Catholic Radio Indy 89.1/90.9 FM will host a radio telethon on Nov. 1-2
Seminar on spirituality and direction for retired Catholic physicians set for Nov. 18
Christmas Bazaar for Little Sisters of the Poor St. Augustine Home set for Nov. 3-4

Obituaries
My Journey to God: You Will Never Be the Same
Catholic News Service:
U.S. bishop concerned about impact of Trump's health care order on the poor
Bishop at Mass recalls aunt's story of being at Fatima for miracle of sun
Death penalty is 'contrary to the Gospel,' Pope Francis says
Hundreds at blessing of shrine awed by church's restored beauty
Column: To be or not to be addicted? That is the question thanks to technology
The Sunday Readings: Twenty-ninth Sunday in Ordinary Time
Question Corner: Mystery is at the heart of prayer and God's infinite foreknowledge
FaithAlive!
Luther sparked the Protestant Reformation 500 years ago
Scripture has brought Catholics and Lutherans closer together
Available Right Now
Right to Life dinner celebrates 'lifesavers' and drop in abortions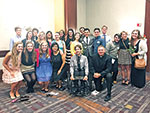 For 35 years, Right to Life of Indianapolis has hosted its annual "Celebrate Life Dinner" to celebrate those who promote respect for life, and to bring those present up to speed on the status of the cause. On Oct. 3, Right to Life of Indianapolis president Marc Tuttle had good news to share with the more than 900 people who gathered for the event at the Downtown Marriott in Indianapolis: the number of abortions in Marion County dropped by 9 percent last year, and the number of abortions performed in each of the city's three abortion centers decreased. (Page 8)
Read our news story

Rosary, devotion to Blessed Mother inspire heartfelt faith lessons passed down in families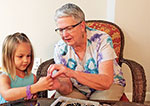 100 years ago, the Blessed Mother appeared to three children in Fatima, Portugal, instructing them to spread the word about the importance of praying the rosary for peace in the world, for peace in people's hearts. In honor of the Blessed Mother's request, and since October is the month of the Holy Rosary, The Criterion has invited readers to share their stories of how praying the rosary has made a difference in their lives. Here are some of their stories. This story is the second of three parts. (Page 1)
Read our news story

St. Martin de Porres Mass celebrating multicultural saint is set for Nov. 3
The annual St. Martin de Porres Mass, sponsored by the archdiocesan Black Catholic and Hispanic ministries, will be held at St. Lawrence Church, 6944 E. 46th St., in Indianapolis, at 7 p.m. on Nov. 3. A reception will follow the liturgy. The Mass celebrates the feast day of St. Martin de Porres, a saint of both Black and Peruvian heritage. He was born in Lima, Peru, in 1579, the illegitimate son of a Spanish knight and a freed African slave. He grew up in poverty and struggled with the stigma of being of mixed race in a time of great prejudice. (Page 2)
Read our news story
Web-only features
Browse our Online Archives by Topic
Beginning with our issues dated January 2008 and later, we have organized listings of our news stories by eight popular or common topics. By going to our online archives, you can now look at collections of stories that are related to: Catholic Education, Family Life, Catholic Charities, Liturgy/Spiritual Life, Youth Ministry, Vocations, Pro-Life and Legislation/Indiana Catholic Conference.
Go to the topical archives
© The Criterion 2017 | To unsubscribe, click here
(Please note: Parishes on this list cannot unsubscribe)
1400 N. Meridian Street, Indianapolis, IN 46202
317-236-1577 | 800-382-9836, ext. 1577
webmaster@archindy.org