This week in The Criterion
The latest edition of The Criterion has been printed and is on its way to subscribers! But with this e-newsletter, you'll get a preview of that issue -- and access to certain stories right now.
The contents of this newsletter are:
A listing of the full contents of the print edition
News stories available right now
Web-only features
National and world news you may have missed

(To view this newsletter online, click here)
January 13, 2017 issue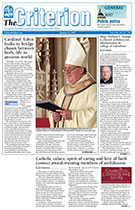 Full Content Preview
Local stories:
Msgr. William F. Stumpf is elected archdiocesan administrator by college of consultors
Catholic values, spirit of caring and love of faith connect award-winning members of archdiocese

Tickets are available for 21st annual Celebrating Catholic School Values program

Archdiocese will celebrate World Marriage Day with special Mass on Feb. 12 in cathedral
Vigil for Life with guest speaker is among three local Roe v. Wade solemn observance opportunities this month
Nominations for 2017 Spirit of Service Awards are due on Jan. 20
Parish remembers Vietnamese martyrs, honors Blessed Mother

Vietnamese New Year Mass to be celebrated on Jan. 29

Catholic conference gears up for state legislative session
St. Thomas Aquinas student interviews Cardinal Tobin
Regular local features:
The Face of Mercy: New series to reflect on teaching of Pope Francis

El rostro de la misericordia: Nueva serie de reflexión sobre las enseñanzas del papa Francisco

Editorial: Encountering our migrants
From the Editor Emeritus: My first visits as a journalist with St. Pope John Paul II
It's All Good: Approach 2017 with an optimistic and peaceful heart
Twenty Something: The pursuit of happiness in the new year
Reflection: Festive, familial spirit marks Cardinal Tobin's installation
Letters to the Editor

Doctrine of faith says Mary experienced no pain at the birth of Christ, reader says

Events Calendar

Prayer service for new government leaders set for Jan. 20 at St. Thomas Aquinas
Help your marriage at Retrouvaille retreat on Feb. 24-26 in Indianapolis
Crusaders for Life to join in Service for the Unborn on Jan. 22 in Indianapolis

Obituaries

General listing
Providence Sister Marie Brendan Harvey taught at Saint Mary-of-the-Woods College
Benedictine Sister Mary Bede Betz served for 52 years in Catholic schools across the state

My Journey to God: Flight
Catholic News Service:
Cardinal Tobin looks to bridge chasm between faith, life in anxious world
Pope: Jesus amazed others because he was humble, helpful, not a hypocrite
Pope Francis to diplomats: Break bad habits of war and injustice
Catholic conference gears up for state legislative session
Guard the faith, make it grow, pope tells parents at baptism
Catholic-Muslim dialogue opens to support Islamic American communities
Bishops cite immigration in National Migration Week statement
How will U.S. policy affect Middle East's Christians in 2017?
Column: Cherishing a rich culture through its lens of history
The Sunday Readings: Second Sunday in Ordinary Time
Question Corner: Some saints known for helping with specific needs, but all can intercede
FaithAlive!
Parishes, dioceses called to show care for people with mental illness
Scripture can provide comfort and consolation in times of crisis and fear
Available Right Now
Msgr. William F. Stumpf is elected archdiocesan administrator by college of consultors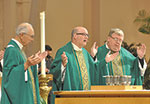 In accordance with the stipulations of the Church's Code of Canon Law, Msgr. William F. Stumpf was elected archdiocesan administrator on Jan. 9 at the Archbishop Edward T. O'Meara Catholic Center in Indianapolis. He was elected by the seven archdiocesan priests who serve on the archdiocesan college of consultors. As archdiocesan administrator, Msgr. Stumpf will oversee the day-to-day business of the Archdiocese of Indianapolis until Pope Francis appoints a new shepherd for the Church in central and southern Indiana. (Page 1)
Read our news story

Catholic values, spirit of caring and love of faith connect award-winning members of archdiocese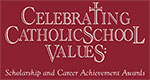 Three pieces of wisdom guide Tom Spencer's life and faith, starting with the advice that his mother gave him as a child. "One of the things she taught me in life was that you're always practicing to become a better Catholic," says Spencer, a member of St. Luke the Evangelist Parish in Indianapolis. That approach marks the lives of Spencer and the three other recipients of the 2017 Celebrating Catholic School Values Award who will be honored on Feb. 9: Kevin Johnson of Holy Spirit Parish in Indianapolis, and Van and Kathy Willis of Our Lady of Perpetual Help Parish in New Albany. (Page 1)
Read our news story

Catholic conference gears up for state legislative session
The Indiana Catholic Conference (ICC) is gearing up for state legislative action as 150 lawmakers returned to the Statehouse on Jan. 3 in Indianapolis to craft a biennial budget by the April 29 adjournment deadline. The ICC, which celebrated the 50-year anniversary of its founding in 2016, represents the Catholic Church in Indiana on national and state matters of public policy. "The ICC communicates the value and dignity of the human person created in the image and likeness of God to state legislators and public policy makers," said Glenn Tebbe, executive director, who serves as the public policy spokesperson for the bishops in Indiana. (Pages 9)
Read our news story
Web-only features
Front Page Image Compilations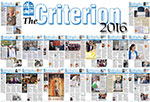 We've taken the past 12 years of Criterion issues from our print edition and made separate compilations of front page images. You can look at 2005-16 and see every front page from that year put into one picture -- kind of a birds-eye view of the year in Catholic news in Indiana.
Go to the feature
National and world news you may have missed...

Here's a sampling of some news stories that ran on our website this past week or so that you may have missed.
Click the headline to see the story:
© The Criterion 2016 | To unsubscribe, click here
(Please note: Parishes on this list cannot unsubscribe)
1400 N. Meridian Street, Indianapolis, IN 46202
317-236-1577 | 800-382-9836, ext. 1577
webmaster@archindy.org