This week in The Criterion
The latest edition of The Criterion has been printed and is on its way to subscribers! But with this e-newsletter, you'll get a preview of that issue -- and access to certain stories right now.
The contents of this newsletter are:
A listing of the full contents of the print edition
News stories available right now
Web-only features
National and world news you may have missed

(To view this newsletter online, click here)
March 7, 2014 issue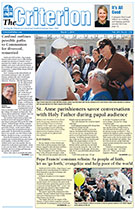 Full Content Preview
Local stories:
St. Anne parishioners savor conversation with Holy Father during papal audience
Vatican court denies appeal of merger of Holy Rosary Parish in Seelyville
Father Larry Crawford was known for dedication to social justice
Father Thomas Murphy worked as a lawyer and legislator before priesthood
Bill to tighten child care regulations advances in Senate
Son of God offers different perspectives and an opportunity
What was in the news on March 6, 1964? Opposition to apartheid, and a clarification on liturgical changes by a Vatican commission
First year as universal shepherd marked by humility, compassion and love, readers say
Cathedral wins state title for school's wrestling 'family'
Lenten penance services are scheduled at archdiocesan parishes
Official Appointments
Regular local features:
Editorial: Self-denial and almsgiving for Lent
From the Editor Emeritus: Old Testament - The Story of Joseph and his brothers
It's All Good: Work and shape your spiritual muscles this Lent
Letters to the Editor

Pray, step out of your comfort zone to be light of the world to all people
Community, people of faith are at the heart of story about young man returning to the Church, reader says

Events Calendar

March bookstore sale at Our Lady of Fatima Retreat House in Indianapolis
Lecture on 'Phenomenology and Catholic Theology' at Saint Meinrad on March 11

Obituaries
My Journey to God: For a friend with cancer
Catholic News Service:
Cardinal outlines possible paths to Communion for divorced, remarried
Pope Francis' constant refrain: As people of faith, let us 'go forth,' evangelize and help poor of the world
Lessons in style: Pope's gestures, choices are teaching moments
Top 10 things most people don't know about Pope Francis
Pope Francis' top 10 most quotable quotes during the past year
Little Sisters of Poor brief asks court to extend injunction on mandate
Retired Pope Benedict says it's absurd to question validity of his resignation
Column: Opposing the pervasive throwaway culture
Column: Reflecting on mistakes, regrets, grief and time travel
Column: A Jesuit brother's tale of physical and spiritual brawn
The Sunday Readings: First Sunday of Lent
Question Corner: Canon law requires Catholics to confess grave sins at least once a year
FaithAlive!
Having a 'desert experience' can lead people closer to God
Being separated from distractions can lead to an encounter with God
Available Right Now
RSVP matches retired and senior persons with volunteer opportunities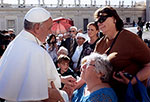 The joy radiates as Mary Kubala and Vicki Stark recall the moment when Pope Francis stopped to talk with them and bless them during their visit to the Vatican. The two members of St. Anne Parish in New Castle still picture the pope's smile. They still savor the moment when he let Kubala reach up and touch him. They still remember the words he shared with them. (Page 1)
Read our news story

Son of God offers different perspectives and an opportunity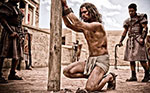 Let me cut to the chase. Do I suggest seeing the film, Son of God? Yes. The movie is a compilation of scenes portraying the life of Jesus pulled from last year's televised miniseries "The Bible" on the History Channel, which was produced by the husband-wife team of Mark Burnett and actress Roma Downey. The film is a CliffsNotes version of Christ's ministry, Passion and Resurrection, with the Apostle John serving as the occasional narrator. (Page 7)
Read our news story
Web-only features
Video: Watch the Ash Wednesday homily of Archbishop Joseph W. Tobin
On March 5, Archbishop Joseph W. Tobin marked the beginning of Lent by celebrating Ash Wednesday Mass at SS. Peter and Paul Cathedral in Indianapolis. Use the link below to watch him deliver his homily.
See the homily | Lenten Resources
National and world news you may have missed...

Here's a sampling of some news stories that ran on our website this past week or so that you may have missed.
Click the headline to see the story:
© The Criterion 2012 | To unsubscribe, click here
(Please note: Parishes on this list cannot unsubscribe)
1400 N. Meridian Street, Indianapolis, IN 46202
317-236-1577 | 800-382-9836, ext. 1577
webmaster@archindy.org