This week in The Criterion
The latest edition of The Criterion has been printed and is on its way to subscribers! But with this e-newsletter, you'll get a preview of that issue -- and access to certain stories right now.
The contents of this newsletter are:
A listing of the full contents of the print edition
News stories available right now
Web-only features
National and world news you may have missed

(To view this newsletter online, click here)
May 6, 2016 issue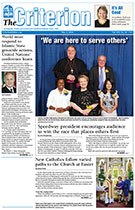 Full Content Preview
Local stories:
'We are here to serve others': Speedway president encourages audience to win the race that places others first

Spirit of Service winners live out their faith by helping others

New Catholics follow varied paths to the Church at Easter
Priests seek to show forth God's beauty through art

College student gives credit to priest for helping her combine faith and art to show God's beauty in the world

Church's diversity on display at Intercultural Ministry banquet; three honored for their work
What was in the news on May 6, 1966? Good riddance to the Index of Forbidden Books, and a decision about female altar servers
College seminary to host Bishop Bruté Days on June 14-17
Regular local features:
Rejoice in the Lord: Give thanks to God for the joy his love and mercy have made possible

Alégrense en el Señor: Demos gracias a Dios por la alegría que Su amor y Su misericordia han hecho posible

Editorial: Pope writes against clericalism
From the Editor Emeritus: Imperiled Church - Sun King controlled the Church in France
It's All Good: In ministry of motherhood, God uses us in wonderful ways
Letters to the Editor

Remember, no matter your age, life is a time to perform good works
The world needs more people like Bernie Price, Criterion reader says

Events Calendar

Discount registration date is May 31 for All City, All Catholic High School Reunion for Class of 1966
Katie's 5K Run/Walk for Hope set for May 21
Global Catholicism is topic of May 21 workshop at Catholic Center in Indianapolis

Obituaries

General listing
Benedictine Brother Philip Ripley served in parish ministry for nearly 40 years

My Journey to God: My Mother's Prayer
Catholic News Service:
World must respond to Islamic State genocide actions, United Nations' conference hears
Petitioners want U.N. to respond to Islamic State attacks on Christians
Father Daniel Berrigan, advocate for justice, peace, poor, dies at 94
Pope Francis to celebrate Mass, welcome homeless on pilgrimage to Rome
Catholic vote not as monolithic as it once was, but still important
True believers serve others, Pope Francis says at audience
New ordinations give reason for hope, but need for priests still great
Stop violence in Syria, punish child abusers worldwide, Pope Francis says
Column: Reflections of a mom
Column: Accepting what God has chosen for us—no matter our age
Column: Follow mercy, not anger
The Sunday Readings: The Ascension of the Lord
Question Corner: Standing in line to receive Communion calls for being 'respectful and reverent'
FaithAlive!
Bearing wrongs can restore relationships through mercy
Jesus shows his followers how to bear unjust suffering with patience
Available Right Now
New Catholics follow varied paths to the Church at Easter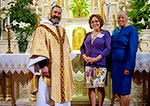 As the Church marks the resurrection of Christ at Easter, it also welcomes new members who enter into their own new life as Catholics. The Archdiocese of Indianapolis welcomed 910 souls into the full communion of the Church on Easter weekend through the Rite of Christian Initiation of Adults (RCIA) in parishes throughout central and southern Indiana. (Page 1)
Read our news story | See a list of all our new Catholic

Speedway president encourages audience to win the race that places others first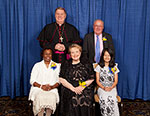 As the president of the Indianapolis Motor Speedway, it seemed fitting that Doug Boles immediately knew that Howdy Wilcox was the winner of the Indianapolis 500 in 1919. Yet Boles showed a measure of grace and preparation as the keynote speaker of the archdiocese's Spirit of Service Awards Dinner in Indianapolis on April 27 when he noted that 1919 was also the year when Catholic Charities Indianapolis began helping the poor and vulnerable in central Indiana. (Page 1)
Read our news story
Web-only features
Photo Gallery: Intercultural Ministry Banquet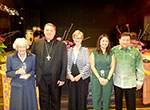 Though the food was among the featured attractions of the second archdiocesan Intercultural Ministry Awards Banquet on April 23 at the Knights of Columbus McGowan Hall in Indianapolis, the dancing, music and singing from various cultures added to the portrait of the Church's diversity on display.
See our photo gallery | Read our news story
National and world news you may have missed...

Here's a sampling of some news stories that ran on our website this past week or so that you may have missed.
Click the headline to see the story:
© The Criterion 2016 | To unsubscribe, click here
(Please note: Parishes on this list cannot unsubscribe)
1400 N. Meridian Street, Indianapolis, IN 46202
317-236-1577 | 800-382-9836, ext. 1577
webmaster@archindy.org