This week in The Criterion
The latest edition of The Criterion has been printed and is on its way to subscribers! But with this e-newsletter, you'll get a preview of that issue -- and access to certain stories right now.
The contents of this newsletter are:
A listing of the full contents of the print edition
News stories available right now
Web-only features
National and world news you may have missed

(To view this newsletter online, click here)
April 25, 2014 issue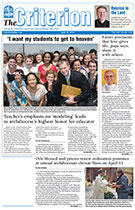 Full Content Preview
Local stories:
'I want my students to get to heaven': Teacher's emphasis on 'modeling' leads to archdiocese's highest honor for educator
Teacher with 'greatest job in the world' earns national award

Finalists for teaching honor come from throughout the archdiocese

Pastor's focus on relationships leads to national education honor
Oils blessed and priests renew ordination promises at annual archdiocesan chrism Mass on April 15
Vatican office denies appeal of merger of St. Pius Parish in Ripley County
A Promise to Keep teens honored for mentoring adolescents
Catholic schools bring people to the Church with help of UCA funds
Regular local features:
Rejoice in the Lord: We are an Easter people connected by humility, hope, purpose

Alégrense en el Señor: Somos un pueblo de Pascua unidos por humildad, esperanza y propósito

Editorial: Remembering 'Good Pope John'
From the Editor Emeritus: Old Testament - Leviticus, the Jews' first book of laws
Cornucopia: The 'voice of the turtle' is still heard loud and clear
Faith and Family: Encounter with a saint led to a deepened relationship with Christ
Letters to the Editor

President Obama has similar sense of social justice to Pope Francis, reader says

Events Calendar

Worldwide Marriage Encounter Weekend offered on May 2-4
The Gift Shop at Providence Center begins inventory reduction sale
Father Peter Stravinskas, noted Catholic educator, to speak at St. Luke on May 4
Katie's Hope run/walk set for May 17 at Roncalli High School in Indianapolis

Obituaries
My Journey to God: God's Grace
Catholic News Service:
Easter proclaims that love gives life, pope says; share it with others
Jesus wants everyone to serve others with love, pope says
Holy Fathers: Is being pope a shortcut to sainthood? An ongoing debate
Canonization Mass to be broadcast live on EWTN, other media outlets
Pope Francis sends Easter eggs to hospitalized children, gift to the homeless
Column: A path of renewal for the Catholic sterilized couple
Column: Christianity's timeless lessons to society in a rush
The Sunday Readings: Divine Mercy Sunday
Question Corner: Use sensitivity in explaining Jesus' crucifixion to young children
FaithAlive!
Let go of jealously, resentment to experience the joy of Easter
Easter season helps Catholics connect the Resurrection to life's challenges
Available Right Now
Teacher with 'greatest job in the world' earns national award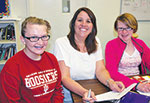 On the wall of Lisa Vogel's classroom she has a picture of every student she has taught at St. Mary School in North Vernon during the past 15 years. "I have the greatest job in the world, and the rewards and blessings are infinite," she says. It's things like that that help explain why Vogel was selected as one of the 11 national recipients of the 2014 Distinguished Teacher Award from the National Catholic Educational Association (NCEA). (Page 8)
Read our news story

A Promise to Keep teens honored for mentoring adolescents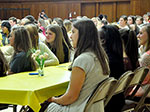 When Archbishop Tobin addressed the 150 teenagers at a luncheon at the Catholic Center in Indianapolis on April 10, he spoke about sexuality. "The gift of human sexuality is a lot like a fire," he said. "Fire can do really good things for you. It can warm the house, cook your food, light your path. But it can also burn and scar, and finally destroy. It all depends on the decisions you make with that gift." These teens—along with 225 additional high school students unable to attend the luncheon—serve as mentors in the archdiocesan A Promise to Keep program. (Page 7)
Read our news story
Web-only features
Photo Gallery: Annual Chrism Mass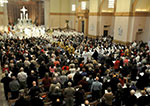 Celebrated annually during Holy Week, the chrism Mass is the occasion when holy oils used in the sacraments are blessed and priests ministering in the archdiocese renew their ordination promises. Representatives from parishes and religious communities across central and southern Indiana receive the oils during the Mass then take them back to their faith communities. See photos from the event.
Go to the photo gallery | See our news story
National and world news you may have missed...

Here's a sampling of some news stories that ran on our website this past week or so that you may have missed.
Click the headline to see the story:
© The Criterion 2012 | To unsubscribe, click here
(Please note: Parishes on this list cannot unsubscribe)
1400 N. Meridian Street, Indianapolis, IN 46202
317-236-1577 | 800-382-9836, ext. 1577
webmaster@archindy.org