Full Content Preview
Local stories:
A wonderful adventure: Newlyweds experience once-in-a-lifetime encounter with Pope Francis on Italy trip
Stay connected to each other and to Jesus, Archbishop Tobin encourages educators
Young Adult Servant of the Year Award to be presented on Sept. 25
40 Days for Life campaign starts on Sept. 28, more participants needed
Annual Respect Life Sunday Mass, Life Chain events set for Oct. 2
God specializes in second chances, NCCW speaker says
Regular local features:
Rejoice in the Lord: Respecting human life: the way to peace

Alégrense en el Señor: El respeto hacia la vida humana es el camino hacia la paz

Editorial: Like Pope Francis, nurture the light of faith in your lives
From the Editor Emeritus: 20th-century Church - The Holy Spirit guides Vatican II
Cornucopia: Viewing the big picture, with the 'facts,' from several angles
Worship and Evangelization Outreach: 'Take it to the Queen: Embracing the Mother of Mercy'
Be Our Guest: Participate in 40 Days for Life campaign and help build a culture of life
Letters to the Editor

Series on 20th-century Church is informative, reader notes
Living by example is the best lesson we can share with our children

Events Calendar

Author, priest abuse victim Norbert Krapf to offer book signing on Oct. 1 in Indy
Notre Dame professor to offer Thomas Merton conference in Beech Grove
Our Lady of Fatima Retreat House to offer healing Mass on Oct. 3
Papal Missionary of Mercy to lead parish mission on Oct. 9-11 in Indianapolis
Mount St. Francis to host 'Mercy and Prayer: A Weekend with Francis of Assisi' on Oct. 7-9
Sisters of Providence offer special Mass for Feast of St. Mother Theodore Guérin on Oct. 3

Obituaries
My Journey to God: The Healing Hands Of Jesus
Catholic News Service:
Religious organizations play major role in caring for migrants, refugees
Pope, Christian leaders pray for peace, victims of war
Pope to bishops: Be good Samaritans; seek quality seminarians
High stakes for religious freedom seen in U.S. election
Dedicated to battling the devil, noted Italian exorcist dies at 91
Exhibit of St. Thomas More artifacts debuts at St. John Paul II shrine
Column: What does God want me to do?
The Sunday Readings: Twenty-sixth Sunday in Ordinary Time
Question Corner: Dialysis is not a required medical procedure in every circumstance
FaithAlive!
Permanent diaconate has encouraged service to others
New Testament shows ministry of deacons is closely tied to the Apostles
Available Right Now
Newlyweds experience once-in-a-lifetime encounter with Pope Francis on Italy trip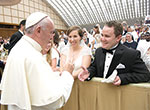 As they prepared for their trip to Italy to try to get a special blessing of their marriage from Pope Francis, Scott and Elisabeth Williams kept telling each other that it would be fine if their plan didn't turn out as they hoped. After all, their wedding at St. Luke the Evangelist Church in Indianapolis on May 28 had been a magical day—a day, Elisabeth says, when "everything came together so beautifully, and I was getting to marry the love of my life." And no matter what happened with the pope, the couple would still have a week together in Rome. Yet deep in their hearts, Scott and Elisabeth both thought it would be tremendous to experience a long-standing, wedding-related tradition at the Vatican. (Page 1)
Read our news story

Stay connected to each other and to Jesus, Archbishop Tobin encourages educators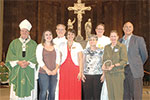 It's a story of grace, perspective and humility—a story that Archbishop Joseph W. Tobin shared during a special Mass on Sept. 7 when several people from across the archdiocese were honored for their service in Catholic education, youth ministry and catechesis. As he began his homily two days after Labor Day, Archbishop Tobin looked at the people in SS. Peter and Paul Cathedral in Indianapolis and asked, "What would you name as the greatest moment of your summer?" The archbishop then shared the story of his own answer to that question—a story that unfolded on "a steamy afternoon at the end of July" as he entered the guest house in Vatican City where Pope Francis lives. (Page 1)
Read our news story

God specializes in second chances, NCCW speaker says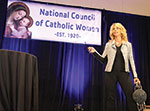 At an early age, she suffered sexual abuse. As a senior in high school, she lost her mother without warning to a heart attack. She spiraled into drug and alcohol addiction, battled an eating disorder, "broke every commandment" and contemplated suicide. But on Sept. 9, the mother of four electrified an audience of hundreds in downtown Indianapolis with her personal witness to God's abounding mercy. Judy Hehr, a Wisconsin resident and radio host, wanted those gathered for the annual National Council of Catholic Women (NCCW) convention to know that God specializes in second chances. (Page 2)
Read our news story
Web-only features
Browse our Online Archives by Topic
Beginning with our issues dated January 2008 and later, we have organized listings of our news stories by eight popular or common topics. By going to our online archives, you can now look at collections of stories that are related to: Catholic Education, Family Life, Catholic Charities, Liturgy/Spiritual Life, Youth Ministry, Vocations, Pro-Life and Legislation/Indiana Catholic Conference.
Go to the topical archives
© The Criterion 2016 | To unsubscribe, click here
(Please note: Parishes on this list cannot unsubscribe)
1400 N. Meridian Street, Indianapolis, IN 46202
317-236-1577 | 800-382-9836, ext. 1577
webmaster@archindy.org