This week in The Criterion
The latest edition of The Criterion has been printed and is on its way to subscribers! But with this e-newsletter, you'll get a preview of that issue -- and access to certain stories right now.
The contents of this newsletter are:
A listing of the full contents of the print edition
News stories available right now
Web-only features

(To view this newsletter online, click here)
February 16, 2018 issue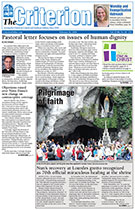 Full Content Preview
Local stories:
Pastoral letter focuses on issues of human dignity

We are One in Christ: A Pastoral Letter on Fundamentals of Christian Anthropology
Somos Uno con Jesucristo: Carta pastoral sobre los fundamentos de la antropología cristiana

Bill to expand IVF across state lines advances in House
Deacon Donald Dearman was first black permanent deacon in archdiocese
Krieg Brothers finds new location after nearly six decades
Holy Rosary Parish to sponsor first men's conference on March 17

Lenten speaker series on hiatus

Lenten penance services are scheduled at archdiocesan parishes
From the Archives: Church dedication committee in Terre Haute
Regular local features:
Christ the Cornerstone: Lenten season is a time of repentance and renewal

Cristo, la piedra angular: La Cuaresma es una época de arrepentimiento y renovación

The Face of Mercy: Pope Francis says sin separates us from God and each other

El rostro de la misericordia: El papa Francisco señala que el pecado nos separa de Dios y del prójimo

Editorial: Finding healing, hope in the person of Jesus Christ
From the Editor Emeritus: Black Catholics in U.S. history: This week, Henriette Delille
That All May Be One: Building bridges is goal of interreligious relationships, dialogue
Worship and Evangelization Outreach: Encountering God in the silence
Reflection: Valentine's Day falling on Ash Wednesday offered a chance to deepen our view on love
Public Schedule of Archbishop Charles C. Thompson
Letters to the Editor

Offer help, talk about, and make a difference in fighting drug abuse epidemic

Events Calendar

Retrouvaille weekend for struggling marriages set for Feb. 23-25 in Indianapolis
Batesville Deanery offers 'A Lenten Night of Worship' on Feb. 25
Rachel's Vineyard Retreat for Healing After Abortion set for March 9-11
Saint Meinrad will host Black History Lecture on Feb. 27
Catholic Charities Indianapolis 'Reverse Raffle & Big 30' scheduled for Feb. 24

Obituaries
My Journey to God: Seeds and Ashes
Catholic News Service:
Pilgrimage of faith: Nun's recovery at Lourdes grotto recognized as 70th official miraculous healing at the shrine
Objections raised over Notre Dame's new change on contraceptive coverage
Report shows NGOs adhering to policy to keep aid from covering abortion
Pilgrim pope: Benedict says he is journeying 'Home' toward God
Only sin can make a person impure, Pope Francis says at Angelus
Case on transfer of archbishop's body is returned to original court
Acts of love, courage are signs of God's grace in the U.S., Trump says
Pope asks people to work together to end human trafficking
Column: Camaraderie, cohesiveness, unity of community mark 2018 March for Life
The Sunday Readings: First Sunday of Lent
Question Corner: Church law prohibits sale of blessed objects used for religious devotion
FaithAlive!
Early Church practices show centrality of penance, humility in Lent
A prayerful examination of conscience at the beginning of the Lenten season
Available Right Now
Pastoral letter focuses on issues of human dignity
In a pastoral letter addressed to the clergy, religious and lay faithful of central and southern Indiana issued on Feb. 14, Ash Wednesday, Archbishop Charles C. Thompson explores a number of issues that are widely debated in society from the perspective of Christian anthropology, which he described as "the way Christians view human dignity and the end or purpose of human society." The faithful's response to issues such as immigration, abortion, racism, religious liberty and drug abuse, Archbishop Thompson said, should be "deeply rooted in the Church's understanding of the origin, nature and destiny of the human person as revealed in Jesus Christ." (Page 1)
Read our news story | See the pastoral letter

Krieg Brothers finds new location after nearly six decades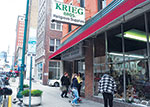 In 2014, Jane and John O'Connor heard about an opportunity to buy Krieg Brothers, a family-owned Catholic supply and retail store in Indianapolis founded in 1892. The business was sold in 2011 and scaled drastically down in size and services. The man who purchased the business decided to close Krieg Brothers permanently in early 2014. In April 2014, the couple re-opened Krieg Brothers on the same corner where it had stood since the early 1960s, on Meridian Street a few blocks south of Monument Circle. But then came the unexpected need in 2017 to find a new location. (Page 13)
Read our news story

Holy Rosary Parish to sponsor first men's conference on March 17
The first Catholic Men's Conference and Retreat sponsored by Our Lady of the Most Holy Rosary Parish in Indianapolis will take place from 8 a.m.-4:30 p.m. on March 17 at the Indianapolis South Deanery faith community. It will feature speakers Father Vincent Lampert, pastor of St. Malachy Parish in Brownsburg and archdiocesan exorcist; Priestly Fraternity of St. Peter Father Michael Magiera, pastor of St. Joseph Parish in Rockdale, Ill., and previous associate pastor and administrator of Holy Rosary; and Father Martin Rodriguez, associate pastor of St. Lawrence Parish in Indianapolis. Titled "Christ: Authentic Manliness," the conference will seek to help attendees learn more about their mission and duty as Catholic men. (Page 13)
Read our news story
Web-only features
Lenten resources

Each year, the Archdiocese of Indianapolis provides special Lenten resources online – the daily readings, archived columns from our current and former archbishops, Stations of the Cross and links of interest. We encourage you to share the link with others, most particularly because it also includes the full listing of penance schedules from around the archdiocese.
Go to the site | See our listing of parish penance services
© The Criterion 2018 | To unsubscribe, click here
(Please note: Parishes on this list cannot unsubscribe)
1400 N. Meridian Street, Indianapolis, IN 46202
317-236-1577 | 800-382-9836, ext. 1577
webmaster@archindy.org