This week in The Criterion
The latest edition of The Criterion has been printed and is on its way to subscribers! But with this e-newsletter, you'll get a preview of that issue -- and access to certain stories right now.
The contents of this newsletter are:
A listing of the full contents of the print edition
News stories available right now
Web-only features
National and world news you may have missed

(To view this newsletter online, click here)
February 27, 2015 issue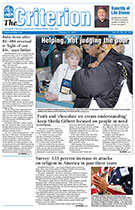 Full Content Preview
Local stories:
Helping, not judging the poor: Faith and 'chocolate ice cream understanding' keep Sheila Gilbert focused on people in need
Bill to ban abortion for gender selection, disabled babies advances
Annual Sanctity of Life Dinner set for March 11 in Indianapolis
Parish Vocations Gathering set for March 14 at college seminary
Annunciation Parish food pantry focuses on people while serving more
Women's conference offers attendees chance to 'hear many strong speakers'
'Ain't it fun?' captures spirit of Scecina rock band

Coach receives statewide honor

Lenten penance services are scheduled at archdiocesan parishes
What was in the news on February 26, 1965? The bones of St. Peter are found, the pope reveals secret peace talks and cardinals are given a new rank
Share stories of how faith has made a difference in your family's life
Regular local features:
Rejoice in the Lord: Lent is a time to cast off indifference

Alégrense en el Señor: La Cuaresma es la temporada para desterrar la indiferencia

Editorial: Making the most of Lent as you prepare for the gift of Easter
From the Editor Emeritus: Mary decides that Jesus' public life should begin
Cornucopia: Don't blame God for the double whammies of life
Emmaus Walk: Expectations and putting everything in God's hands
Faith and Family: Climb higher, achieve more during Lent
Letters to the Editor

No letters were printed this week

Events Calendar

Black Catholic marriage retreat to be held in Indianapolis on Mar. 27-29
Presentation at St. Barnabas Church on Mar. 15 focuses on science of Crucifixion
Bereavement sessions offered at St. Simon the Apostle Parish in Indianapolis

Obituaries

General listing
Providence Sister Rosalie Marie Weller ministered as a cook, also in parishes

My Journey to God: One Step at a Time
Catholic News Service:
Baby born after RU-486 reversal is 'light of our life,' says father
Survey: 133 percent increase in attacks on religion in America in past three years
Panel looks to bridge divides among groups in shared parish
Pope: Don't let meatless Fridays be selfish, soulless, seafood splurge
On Ash Wednesday, Cardinal Wuerl urges solidarity with persecuted Christians
Don't be a successful failure: Choose life over false gods, Pope Francis says
Column: Whose Life Is It Anyway - Thoughts on physician assisted suicide
The Sunday Readings: Second Sunday of Lent
Question Corner: Church teaching on Christ's real presence in the Eucharist based in Scripture
FaithAlive!
The Church offers us many ways of praying during Lent
Prayer can be a source of renewal amid the many demands of life
Available Right Now
Women's conference offers attendees chance to 'hear many strong speakers'
The Indiana Catholic Women's Conference, sponsored by the Marian Center of Indianapolis with assistance from the Archdiocese of Indianapolis, will take place at the Indianapolis Marriott Downtown hotel, 350 W. Maryland St., from 8:30 a.m.-4:30 p.m. on March 21. The theme of this year's conference is "The New Evangelization—Bringing Jesus to the World." (Page 9)
Read our news story

Annual Sanctity of Life Dinner set for March 11 in Indianapolis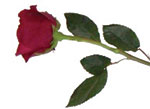 The Sanctity of Life Dinner, sponsored by the archdiocesan Office of Pro-Life and Family Life, will be held at Primo Banquet Hall and Conference Center, 2615 National Ave. in Indianapolis, at 6 p.m. on March 11. Archbishop Joseph W. Tobin will serve as the keynote speaker."The Sanctity of Life Dinner provides a unique opportunity for people from across the archdiocese to gather together to rejoice in the truth and beauty of what we believe," said Rebecca Niemerg, director of the Office of Pro-Life and Family Life. (Page 3)
Read our news story
Web-only features
Photo disc from the Holy Land Pilgrimage available for purchase.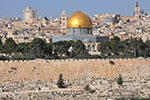 During the course of the recent archdiocesan pilgrimage to the Holy Land, Criterion reporter Natalie Hoefer took photos to document the trip. We are offering a DVD disc of more than 1,000 photos from the pilgrimage for purchase. The disc is $10; once you have it you are free to reprint any of the photos (either at home or at a store, such as Walgreen's) for personal use.
Purchase the photo disc
National and world news you may have missed...

Here's a sampling of some news stories that ran on our website this past week or so that you may have missed.
Click the headline to see the story:
© The Criterion 2015 | To unsubscribe, click here
(Please note: Parishes on this list cannot unsubscribe)
1400 N. Meridian Street, Indianapolis, IN 46202
317-236-1577 | 800-382-9836, ext. 1577
webmaster@archindy.org