This week in The Criterion
The latest edition of The Criterion has been printed and is on its way to subscribers! But with this e-newsletter, you'll get a preview of that issue -- and access to certain stories right now.
The contents of this newsletter are:
A listing of the full contents of the print edition
News stories available right now
Web-only features
National and world news you may have missed

(To view this newsletter online, click here)
February 5, 2016 issue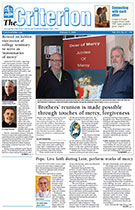 Full Content Preview
Local stories:
Brothers' reunion is made possible through touches of mercy, forgiveness
Lenten penance services are scheduled at archdiocesan parishes

Lenten disciplines include fasting, almsgiving, prayer
Catechism Corner: What the catechism says about Lent

Poverty pastoral reflection guide aims to help people grow in faith
School choice proposal advances in Senate during School Choice Week
Conventual Franciscans reach out to the margins from Mount St. Francis
What was in the news on Feb. 4, 1966? A hope for peace in Vietnam, confusion over decrees on the use of Latin, and Father Hans Kueng expresses changes he'd like to see
Wedding Announcements

Couples may announce engagement or marriage in The Criterion

Couple to Couple League classes teach natural family planning, 'open couples to grace'
Parishes and groups offer marriage ministry throughout archdiocese
Pre Cana Conference, Tobit Weekend and One in Christ programs prepare engaged couples for marriage
Applications for Brooke Nichole Lahr Scholarship due on Feb. 12
Regular local features:
Rejoice in the Lord: Preparing for a holy Lent in the Year of Mercy

Alégrense en el Señor: Preparativos para una Cuaresma santa en el Año de la Misericordia

Editorial: Mexico's vicious drug cartels
From the Editor Emeritus: Renaissance Church - The popes became Renaissance men
It's All Good: Use Lent as a time to strengthen your spiritual muscles
Reflection: Pilgrimage, unexpected delay offer lessons in patience, trust and sacrifice
Letters to the Editor

No letters were printed this week

Events Calendar

Participants needed for 40 Days for Life campaign from Feb. 10-March 20
Reverse raffle and dinner on Feb. 20 to benefit Catholic Charities Indianapolis
Celebrate Marriage ministry offers reception for all married couples on Feb. 13
Retreat for busy mothers scheduled at Saint Mary-of-the-Woods on Feb. 26-28

Obituaries

General listing
Sister Mary Ann Schumann helped start archdiocese's first perpetual adoration chapel across central and southern Indiana

My Journey to God: The Presentation
Catholic News Service:
Retired archabbot, vice-rector of college seminary to serve as 'missionaries of mercy'
Pope: Live faith during Lent, perform works of mercy
At close of congress, pope urges Catholics to be missionaries to world
Supreme Court to hear oral arguments in HHS mandate cases on March 23
Column: Let us encounter our Muslim neighbors with love, not fear
Column: Reflecting on Pope Francis' World Day of Peace message
The Sunday Readings: Fifth Sunday in Ordinary Time
Question Corner: Saints mentioned in Eucharistic Prayer 1 come from early centuries of the Church
FaithAlive!
Jesus taught that caring for the homeless was caring for him
God calls his followers throughout the Bible to welcome strangers
Available Right Now
Brothers' reunion is made possible through touches of mercy, forgiveness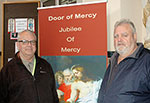 Pope Francis has declared a "Holy Year of Mercy" in the Church that continues through Nov. 20, 2016. As part of the Year of Mercy, The Criterion is inviting our readers to share their stories of how their lives have been graced by the mercy of God and other people—and how that mercy has made a difference. Here is the second in a continuing series of stories.(Page 1)
Read our news story

Couple to Couple League classes teach natural family planning, 'open couples to grace'
For nine years, Laura Buening felt tired and moody. She also dealt with weight gain. Now, all of that is gone. And more importantly, her marriage with her husband Joshua has improved in communication and in closeness as a couple and with God. There was no magic pill that led to all this healing. On the contrary, Buening credits the improvements to the couple's switch from using hormonal contraceptive pills to practicing natural family planning, a method they learned through the Couple to Couple League's Indianapolis chapter. (Page 8)
Read our news story | Wedding Announcements

Web-only features
Connected in the Spirit results for the Bloomington, Connersville and Seymour deaneries
During a public meeting at St. Bartholomew Church in Columbus on February 4, Archbishop Joseph W. Tobin announced the results of the Connected in the Spirit parish planning process as it pertains to the Bloomington, Connersville and Seymour deaneries. The results included some parishes that were merged, others that will (or will remain) linked with other parishes, and those parishes that will enter into partnerships.
See a summary of changes | Watch the video announcement
National and world news you may have missed...

Here's a sampling of some news stories that ran on our website this past week or so that you may have missed.
Click the headline to see the story:
© The Criterion 2016 | To unsubscribe, click here
(Please note: Parishes on this list cannot unsubscribe)
1400 N. Meridian Street, Indianapolis, IN 46202
317-236-1577 | 800-382-9836, ext. 1577
webmaster@archindy.org