This week in The Criterion
The latest edition of The Criterion has been printed and is on its way to subscribers! But with this e-newsletter, you'll get a preview of that issue -- and access to certain stories right now.
The contents of this newsletter are:
A listing of the full contents of the print edition
News stories available right now
Web-only features
National and world news you may have missed

(To view this newsletter online, click here)
June 24, 2016 issue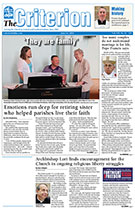 Full Content Preview
Local stories:
'They are family': Emotions run deep for retiring sister who helped parishes live their faith
Archbishop Lori finds encouragement for the Church in ongoing religious liberty struggles
Former Anglican priest to make history as first married priest in archdiocese
Pilgrims walk 60 miles to visit shrine of St. Theodora and 'grow closer to God'
What was in the news on June 24, 1966? The authority of bishops expanded, a new mother superior, and a writer argues for women priests
Serra Club vocations essay: Retired priest gives student a vibrant example of God's mercy
Ordination Mass to be live-streamed on archdiocesan website on June 25
Regular local features:
Rejoice in the Lord: The vocation of the family is 'to teach love'

Alégrense en el Señor: La vocación de la familia es la 'enseñanza del amor'

Editorial: The Catholic Church in China
From the Editor Emeritus: Imperiled Church - The end of the Papal States
Corncopia: Say the right thing at the right time for the right reason
Emmaus Walk: What's new? God will not be outdone in generosity
Faith and Family: The Holy Spirit can guide us through the light and shadows of life
Letters to the Editor

In appreciation for Father Robeson and Bishop Simon Bruté College Seminary

Events Calendar

West Point grad
All Saints Parish to display Nativity sets from around the world during festivals
Shop INN-Spired Gift Shop in Beech Grove to hold sale on July 9
SS. Francis and Clare of Assisi Parish seeking local artists for fall festival

Obituaries

General listing
Jeanne Duvelius, 76, mother of Father Dennis Duvelius, died on June 11
Benedictine Father Damian Schmelz was college seminary professor, leader in Indiana ecology, Sagamore of the Wabash

My Journey to God: Daddy!
Catholic News Service:
Too many couples do not understand marriage is for life, Pope Francis says
Family petitions court to move body of Archbishop Sheen to Peoria
Chairman, witnesses at hearing look at threats to religious freedom
'God is here to grieve with us,' says priest aiding families
Parish reaches out to Nebraska family after deadly alligator attack
'Laudato Si" at one year: Catholics inspired to act on climate change
Vatican marks anniversary of environmental encyclical by launching new website
Column: Seeing through the intersex confusion
The Sunday Readings: Thirteenth Sunday in Ordinary Time
Question Corner: The Church has requirements that must be met before minors can be baptized
FaithAlive!
Love can grow as spouses deepen their knowledge of one other
Pope Francis' 'The Joy of Love' can strengthen marriage preparation programs
Available Right Now
Emotions run deep for retiring sister who helped parishes live their faith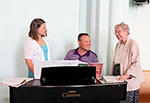 Tears started to pool in the eyes of Franciscan Sister Christine Ernstes. She could feel the emotion rising within her as she sat in the sanctuary during a recent Sunday Mass at Immaculate Conception Church in Millhousen, where she has served as the parish life coordinator for the past 21 years. "I saw all these people coming up for Communion, and I thought of how all of them had touched my life, and how I had touched theirs," she recalls. "I almost cried just because they are so much a part of my life. They are family." (Page 1)
Read our news story

Former Anglican priest to make history as first married priest in archdiocese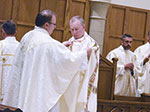 On June 29, transitional Deacon Luke Reese, a former Anglican priest, will become the first married priest in the Archdiocese of Indianapolis when he is ordained in a liturgy witnessed by his wife Gina of 24 years and their seven children. Soon after, Deacon Reese will begin ministering in parishes in central and southern Indiana, another step in a winding spiritual journey for him and his family. "I'm really excited about it," said Deacon Reese, who was ordained to the diaconate on May 31. "I look forward to the adventure of it all." (Page 3)
Read our news story
Web-only features
Live-Stream of priestly ordination Mass
At 10 a.m. on June 25, the Archdiocese of Indianapolis will live-stream on its website the ordination liturgy of six priests at SS. Peter and Paul Cathedral in Indianapolis. Archbishop Joseph W. Tobin will ordain transitional deacons James Brockmeier, Anthony Hollowell, Douglas Hunter, Kyle Rodden, Matthew Tucci and Nicholas Ajpacaja Tzoc to the priesthood. The ordination Mass will be archived on the website so it can be viewed in the future as well.
Go to our live-streaming page
National and world news you may have missed...

Here's a sampling of some news stories that ran on our website this past week or so that you may have missed.
Click the headline to see the story:
© The Criterion 2016 | To unsubscribe, click here
(Please note: Parishes on this list cannot unsubscribe)
1400 N. Meridian Street, Indianapolis, IN 46202
317-236-1577 | 800-382-9836, ext. 1577
webmaster@archindy.org