This week in The Criterion
The latest edition of The Criterion has been printed and is on its way to subscribers! But with this e-newsletter, you'll get a preview of that issue -- and access to certain stories right now.
The contents of this newsletter are:
A listing of the full contents of the print edition
News stories available right now
Web-only features
National and world news you may have missed

(To view this newsletter online, click here)
July 22, 2016 issue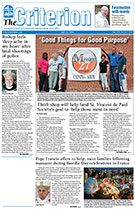 Full Content Preview
Local stories:
'Good Things for Good Purpose': Thrift shop will help fund St. Vincent de Paul Society's goal to 'help those most in need'

St. Vincent de Paul Society thrift stores in the archdiocese and the surrounding region

It's time for double blessing of helping children, getting tax credit
Who would you honor for living their Catholic values? Nominate them now
Notre Dame team designs program to help Holy Angels' students soar
Biannual grants are awarded to parishes, schools and archdiocesan agencies
Oldenburg Franciscan sisters celebrate jubilees
What was in the news on July 22, 1966? Racial tensions, the war in Vietnam, clerical celibacy and a deficit for Catholic high schools
Serra Club vocations essay: Priest shows 'God's unending love and mercy' in confession
Official Appointments
Regular local features:
Rejoice in the Lord: Children are love's greatest gift to us

Alégrense en el Señor: Los hijos son el don más excelso que recibimos del amor

Editorial: Beyond Fortnight, we are called to be stewards of religious liberty
From the Editor Emeritus: The Church rebounds - Pope Leo XIII's intellectualism
Corncupia: Hindsight may or may not prove to be the best road to travel
Letters to the Editor

No letters were printed this week

Events Calendar

Celebrant Singers to perform concert at St. Bartholomew Church on July 30
St. Lawrence School Class of 1966 to hold its 50th reunion on Aug. 13
Foster parent information session to be held at St. Meinrad Church on Aug. 7
Retrouvaille retreat set for Aug. 5-7 at Our Lady of Fatima in Indianapolis

Obituaries

General listing
Berniece Banet, mother of Father Stephen Banet, died on July 5 at the Villa of Guerin Woods in Georgetown

My Journey to God: Speech
Catholic News Service:
Bishop feels 'deep ache in my heart' after fatal shootings of police
Pope Francis offers to help, meet families following massacre during Bastille Day celebrations in France
After violence, Catholics, all people of goodwill, urged to pray for peace in U.S.
Church urged to turn attention to racism before fractures widen
Healing racial divides starts with dialogue, African-American bishops say
Nuncio to U.N.: Create Palestinian state, use faith-based diplomacy
Bill Cunningham, Times photographer, lived his Catholic faith, says priest
Churches among those swept up in Pokemon Go craze
University president defends Catholic hiring for Catholic identity
Communications 'the ministry of my priesthood,' says retiring editor
Pope Francis picks U.S. consultant Kim Daniels for communications body
Column: Cremains and respect for the human body
Column: Whether young or old, summer days are full of possibilities
Column: Remembering Elie Wiesel and remembering the unborn
The Sunday Readings: Seventeenth Sunday in Ordinary Time
Question Corner: The Church offers prayers that free dying people from punishments in purgatory
Available Right Now
Thrift shop will help fund St. Vincent de Paul Society's goal to 'help those most in need'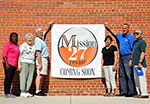 The distribution center for the St. Vincent de Paul Society's Indianapolis Council monopolizes one end of the 1200 block of East Maryland Street near downtown. Inside the late 19th-century former mattress factory, old bricks lie in piles on the floor. Gaping holes exist where glass windows stood, and sunlight filters through the drapery of dust in the air. These sights are not the death knell for the distribution center. Rather, they are signs of new life as the council prepares the building in order to open Indianapolis' first-ever St. Vincent de Paul resale store—"Mission 27 Resale"—in October. (Page 1)
Read our news story

Indianapolis parish sows peace as violence and death continue to mark life in neighborhood, nation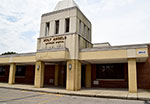 With the goal of helping children "succeed according to their individual needs," Holy Angels School in Indianapolis will begin the upcoming school year with a new learning system specially designed by a team from the University of Notre Dame. The use of "blended learning instruction" at Holy Angels is one of the first initiatives that has resulted from the announcement in March that five center-city Catholic schools in Indianapolis will become part of the Notre Dame ACE Academies' network starting in the 2016-17 school year. (Page 7)
Read our news story
Web-only features
Browse our Online Archives by Topic
Beginning with our issues dated January 2008 and later, we have begun to organize listings of our news stories by eight popular or common topics. By going to our online archives, you can now look at collections of stories that are related to: Catholic Education, Family Life, Catholic Charities, Liturgy/Spiritual Life, Youth Ministry, Vocations, Pro-Life and Legislation/Indiana Catholic Conference.
Go to the topical archives
National and world news you may have missed...

Here's a sampling of some news stories that ran on our website this past week or so that you may have missed.
Click the headline to see the story:
© The Criterion 2016 | To unsubscribe, click here
(Please note: Parishes on this list cannot unsubscribe)
1400 N. Meridian Street, Indianapolis, IN 46202
317-236-1577 | 800-382-9836, ext. 1577
webmaster@archindy.org