This week in The Criterion
The latest edition of The Criterion has been printed and is on its way to subscribers! But with this e-newsletter, you'll get a preview of that issue -- and access to certain stories right now.
The contents of this newsletter are:
A listing of the full contents of the print edition
News stories available right now
Web-only features
National and world news you may have missed

(To view this newsletter online, click here)
June 23, 2017 issue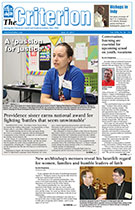 Full Content Preview
Local stories:
A 'passion for justice': Providence sister earns national award for fighting 'battles that seem unwinnable'
New archbishop's mentors reveal his heartfelt regard for women, families and humble leaders of faith
CCF has met the 'needs of larger Church' for 30 years
All Saints Academy closing; options being considered for students
U.S. Bishops' Meeting in Indianapolis

Bishops vote to make religious liberty a permanent committee
Religious liberty advocacy occurs at federal, state and local levels
Conversation, listening are essential for upcoming synod on youth, vocations
Take courage, recognize grace, apostolic nuncio tells bishops
Bishop Cantu reports on unrest, religious persecution around globe
Bishops 'can never say we are sorry enough' for tragedy of abuse
Holy Cross priest presents reflection on immigration issues for bishops
Church 'committed to ensuring fundamental right' to health care

Speaker encourages Catholic men to be 'Christ-driven'
Official Appointments
Regular local features:
The Face of Mercy: Mary, our mother and a source of love, comfort and hope

María, nuestra madre y la fuente de amor, consuelo y esperanza

Editorial: Receiving Christ's Body in Communion
From the Editor Emeritus: Jesuit martyrs were killed by Indians in Virginia in 1571
Cornucopia: Saying 'I do' should promise a happy future when we mean it
Emmaus Walk: No matter where you are, with God, all things are possible
Reflection: Bishops seek civility, compassion and courage
Letters to the Editor

No letters were printed this week

Events Calendar

Retrouvaille retreat for marriages in crisis set for Aug. 11-13 in Indianapolis
Art exhibit at Saint Meinrad Archabbey Library Gallery runs through July 14

Obituaries

General listing
Conventual Franciscan Father Juniper Cummings served as seminary professor, in leadership

My Journey to God: Wrinkle Free
Catholic News Service:
Pope: End fear, false beliefs about refugees by getting to know them
Pope: Don't pretend to be teens; help youths see blessings of adulthood
In recognizing one's weakness, God's strength can be found, Pope Francis says
Behind hatred, violence is an unloved heart, pope says at audience
U.S. bishops urged to be vigilant, never complacent, in stopping clergy abuse
Eucharist is reminder of God's love, call to unity, pope says
Column: Can I donate my body to science?
Column: Encountering Jesus in his variety of disguises
The Sunday Readings: Twelfth Sunday in Ordinary Time
Question Corner: A follow up to more questions about cell phone use in the church
FaithAlive!
Mystical prayer can involve deep union of soul, body with God
Christians have fostered devotion to Mary throughout Church history
Available Right Now
Providence sister earns national award for fighting 'battles that seem unwinnable'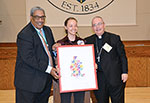 Providence Sister Tracey Horan has learned that walking with people—accompaniment, as Pope Francis calls it—can make a difference in the world. She recalled learning the lesson time and again during her work as a community organizer with the Indianapolis Congregation Action Network, or IndyCAN, as well as during her journey toward religious life. Sister Tracey, 29, a second-year novice with the Sisters of Providence of Saint Mary-of-the-Woods, said she has found that the people she works with in neighborhoods and 30 congregations, including the 17 largest, around Indianapolis are the inspiration that fills her with hope in a world beset by injustice. (Page 1)
Read our news story

New archbishop's mentors reveal his heartfelt regard for women, families and humble leaders of faith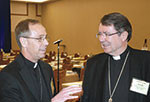 To get a glimpse into the heart of Archbishop-designate Charles C. Thompson, listen to the way he talks about two of the most special people in his life. The first person is his maternal grandmother—who comes to his mind immediately when he talks about the importance of women in the life of the Church. As the archbishop-designate talks about his maternal grandmother, his eyes glow. He has a similar look when he talks about Archbishop Emeritus Daniel M. Buechlein. (Page 1)
Read our news story
Web-only features
News and photos from the meeting of the U.S. Conference of Catholic Bishops in Indianapolis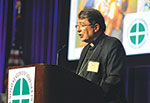 On June 14-15, bishops, archbishops and cardinals from dioceses across the United States gathered for their 2017 spring national meeting in Indianapolis. Our reporters covered what went on and what was discussed, as well as providing photos from the meeting and from a special Mass of Prayer and Penance at SS. Peter and Paul Cathedral in Indianapolis. Get access to all of it below.
See all our resources here
National and world news you may have missed...

Here's a sampling of some news stories that ran on our website this past week or so that you may have missed.
Click the headline to see the story:
© The Criterion 2017 | To unsubscribe, click here
(Please note: Parishes on this list cannot unsubscribe)
1400 N. Meridian Street, Indianapolis, IN 46202
317-236-1577 | 800-382-9836, ext. 1577
webmaster@archindy.org