This week in The Criterion
The latest edition of The Criterion has been printed and is on its way to subscribers! But with this e-newsletter, you'll get a preview of that issue -- and access to certain stories right now.
The contents of this newsletter are:
A listing of the full contents of the print edition
News stories available right now
Web-only features
National and world news you may have missed

(To view this newsletter online, click here)
July 31, 2015 issue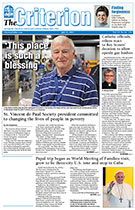 Full Content Preview
Local stories:
'This place is such a blessing': St. Vincent de Paul Society president committed to changing the lives of people in poverty
Archdiocese releases statement about the arrest of Oscar Vasquez
Oldenburg Franciscans have passed on the spirit of St. Francis for nearly 165 years
Five Providence sisters celebrate their 50-year jubilees
What was in the news on July 30, 1965? Infallibility understood in a clearer light and nuns allowed to distribute Communion in mission territory
Serra Club vocations essay: Seeing people serve God in the Church helps teen's discernment
The life of Blessed Junipero Serra
Regular local features:
Rejoice in the Lord: Quality education can determine a child's future

Alégrense en el Señor: La educación de calidad es capaz de definir la vida de un niño

Editorial: Canonizing Junipero Serra
From the Editor Emeritus: Early Church - Two special popes of the fifth century
Faith and Family: Know God loves you, and share that love with others
Letters to the Editor

Providence Sister Alexa Suelzer also contributed to New Jerome Biblical Commentary
Story on centenarian 'is the kind of journalism the world needs,' reader says

Events Calendar

Women of Grace Bible Study will be shared at Catholic Radio Indy studios
Workshop on workplace bullying to take place at Marian University in Indianapolis
Catechists training in Spanish will be offered at St. Patrick Parish in Indianapolis on Aug. 29

Entrenamiento en Español para catequistas será ofrecido en la parroquia San Patricio en Indianápolis el 29 de Agosto

Obituaries
My Journey to God: I Met Jesus Today
Catholic News Service:
Catholic officials, others react to Boy Scouts' decision to allow openly gay leaders
Papal trip began as World Meeting of Families visit, grew to be three-city U.S. tour and stop in Cuba
Celebrated Irish pilgrimage is canceled due to severe weather
Nuns ask court for protection from complying with HHS mandate, fines
'Good Is Winning' social media effort gears up for Pope Francis' visit
'Walk with Francis' service pledge drive is launched in honor of visit
'We must recommit ourselves to end' death penalty, say bishops' chairmen
World Youth Day registration begins; pope is first person to sign up
Overtime, overhauls and the ordinary: 2013 goes down in Vatican history
Iowa music professor says playing organ at church paved way to Carnegie Hall
Column: 'Laudato Si' -- Praising God in rural America
Column: Finding forgiveness and grace as we deal with tragedy in life
Column: The pope's call to ecological conversion and our response
The Sunday Readings: Eighteenth Sunday in Ordinary Time
Question Corner: Mass is not required by the Church for the validity of an exchange of marriage vows
Available Right Now
St. Vincent de Paul Society president committed to changing the lives of people in poverty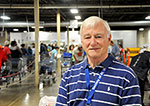 When John Ryan, the new president of the Indianapolis Council of the Society of St. Vincent de Paul, began volunteering at the organization's food pantry, he was sweeping and mopping the floors. Ever since, he has been moved by the faith of those who come each day for help -- men, women and children of different ages and races. The former senior deputy mayor of Indianapolis now leads the Indianapolis council in creating new, expanded and ambitious plans to help change the lives of people in poverty. (Page 1)
Read our news story

Oldenburg Franciscans have passed on the spirit of St. Francis for nearly 165 years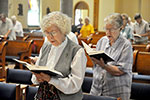 The Church's Year of Consecrated Life began in late November, and will conclude on Feb. 2, 2016. During that time, The Criterion will publish a series of articles featuring the life and history of each of the religious communities based in the Archdiocese of Indianapolis. This is the third article in that series and focuses on the Congregation of the Sisters of the Third Order of St. Francis in Oldenburg. (Page 3)
Read our news story

Web-only features
Parish festival listing -- all summer long
Our parish festival listings were included one of our issues in May, but we keep them up all summer, posting periodic corrections and additions. Got a spare weekend? Check our listings at any time via the link below to see where the fun will be each week.
Go to our parish festival listing
National and world news you may have missed...

Here's a sampling of some news stories that ran on our website this past week or so that you may have missed.
Click the headline to see the story:
© The Criterion 2015 | To unsubscribe, click here
(Please note: Parishes on this list cannot unsubscribe)
1400 N. Meridian Street, Indianapolis, IN 46202
317-236-1577 | 800-382-9836, ext. 1577
webmaster@archindy.org