This week in The Criterion
The latest edition of The Criterion has been printed and is on its way to subscribers! But with this e-newsletter, you'll get a preview of that issue -- and access to certain stories right now.
The contents of this newsletter are:
A listing of the full contents of the print edition
News stories available right now
Web-only features

(To view this newsletter online, click here)
October 21, 2016 issue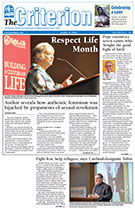 Full Content Preview
Local stories:
Respect Life Month: Author reveals how authentic feminism was hijacked by proponents of sexual revolution

Dinner recognizes 'authentic feminist movement' and its champions

Photo: Red Mass (print edition only)
ICC celebrates 50 years as public policy voice of the Church in Indiana
UCA funds help provide professional development for education
White Mass celebrates local Catholic medical professionals

New York fertility doctor shares story of embracing pro-life, Catholic faith

Gratitude motivates Miter Society donors to 'share the harvest'
Ten years after canonization, sisters say foundress motivated by love for God and his love for her
Regular local features:
Rejoice in the Lord: Care for creation: a moral issue of our time

Alégrense en el Señor: El cuidado de la creación: una cuestión moral de nuestra época

Editorial: The ugly election
From the Editor Emeritus: 20th-century Church - More Vatican II documents
That All May Be One: Oct. 31 prayer service to mark Catholic-Lutheran dialogue
Worship and Evangelization Outreach: Faith, collaboration are at heart of Student Leadership Program
Letters to the Editor

No letters were printed this week

Events Calendar

Two 'Year of Mercy' pilgrimages set for Nov. 5 at Saint Meinrad and cathedral
Former Indianapolis all-girls Catholic high schools Mass, luncheon is Nov. 6
Annulment information meeting set for Oct. 26 in Indianapolis
John Michael Talbot to give free concert in Indianapolis on Oct. 29

Obituaries

General listing
Carolyn Riebe, mother of Father Todd Riebe, died on Sept. 30

My Journey to God: Prayer to Mother Theodore Guérin
Catholic News Service:
Pope canonizes seven saints who 'fought the good fight of faith'
Fight fear, help refugees, says Cardinal-designate Tobin
Shipment heads to Haiti from Miami; plans begin for next phase of relief
Archbishop Kurtz: Political discourse that demeans women, religion 'must change'
Catholic organizations urge physicians to support AMA code on assisted suicide
Each Christian is a chosen child, individually loved by God, pope says
Column: Lori - Troubling claims in report raise stakes for religious freedom
Column: The challenge of living in a time where 'anything goes'
The Sunday Readings: Thirtieth Sunday in Ordinary Time
Question Corner: Pray to God often, but know that he answers prayers in his own time, way
FaithAlive!
Catholics called to apply faith to promote the common good
Form consciences well to participate faithfully in the political process
Available Right Now
ICC celebrates 50 years as public policy voice of the Church in Indiana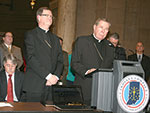 The Second Vatican Council, with its profound and sweeping changes for the Catholic Church, had concluded less than a year before. The social and political upheavals of the 1960s were reshaping American culture. And in the midst of it all, Indiana Catholics stepped forward to be heard. In October of 1966, a small group of dedicated Catholics met in Indianapolis to do what their counterparts in only a handful of states had accomplished—to formalize a way for the Catholic Church to speak on both state and national issues. That was the genesis of the Indiana Catholic Conference (ICC), which this fall marks the 50th anniversary of its establishment as the public policy voice of the Catholic Church in Indiana. (Page 3)
Read our news story

Ten years after canonization, sisters say foundress motivated by love for God and his love for her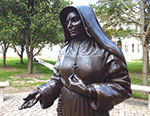 The quaint country town of St. Mary-of-the-Woods, a few miles northwest of Terre Haute, seems a far cry from the "Wild West," but when Mother Theodore Guérin arrived there in 1840, the Indiana forest was frontier country. "It is astonishing that this remote solitude has been chosen for a novitiate and especially for an academy," Mother Theodore recorded in her journal. "All appearances are against it." Today, those very words are emblazoned on the walls of a shrine that now stands on the tamed landscape. The pioneer-religious sister accomplished what she thought impossible, successfully establishing a thriving congregation and a school in the midst of the wilderness. (Page 16)
Read our news story

Respect Life Month: Author reveals how authentic feminism was hijacked by proponents of sexual revolution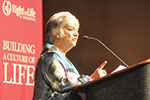 The word "feminism" and the feminist movement can call to mind images of pro-abortion, free-spirited women who rebel against Christian morals. But this is not what the founders of feminism intended at the turn of the last century. Rather, the pro-life, pro-family feminist movement was hijacked by proponents of the sexual revolution of the 1960s. Such was the truth revealed by Sue Ellen Browder—a self-proclaimed repentant witness to and perpetrator of this travesty—to more than 900 pro-life advocates at the Right to Life of Indianapolis "Celebrate Life Dinner" on Oct. 4 at the Indiana Convention Center in Indianapolis. (Page 1)
Read our news story

Web-only features
See our news coverage of the naming of Archbishop Tobin as a cardinal
On October 9, Pope Francis named Archbishop Joseph W. Tobin to the College of Cardinals. In the day afterward, he conducted a 30-minute sit down interview with The Criterion, as well as held a press conference at the Catholic Center in Indianapolis. Both videos as well as news stories and more are available on our website.
Go to the news page

Watch videos of the speakers from the Marian Jubilee event on Oct. 8
Archbishop Joseph W. Tobin and evangelist Dr. Scott Hahn were the featured speakers at the Holy Year of Mercy Marian Jubilee event, held on October 8 at St. Bartholomew Church in Columbus. Watch their presentations on our video page.
See the videos
© The Criterion 2016 | To unsubscribe, click here
(Please note: Parishes on this list cannot unsubscribe)
1400 N. Meridian Street, Indianapolis, IN 46202
317-236-1577 | 800-382-9836, ext. 1577
webmaster@archindy.org