This week in The Criterion
The latest edition of The Criterion has been printed and is on its way to subscribers! But with this e-newsletter, you'll get a preview of that issue -- and access to certain stories right now.
The contents of this newsletter are:
A listing of the full contents of the print edition
News stories available right now
Web-only features
National and world news you may have missed

(To view this newsletter online, click here)
May 1, 2015 issue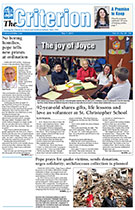 Note: Our e-newsletter will be taking a brief hiatus after this edition and will return in six weeks.
Full Content Preview
Local stories:
The joy of Joyce: 92-year-old shares gifts, life lessons and love as volunteer at St. Christopher School
ICC reports successes for 2015 session of General Assembly
More than 800 graduating from three Catholic colleges in archdiocese
Chastity program celebrates 20 years of helping youths live lives of 'honesty, decency and integrity'
Immigration is at the heart of 150-year-old St. Patrick Parish in Indianapolis
Special collection to assist Nepal earthquake victims
What was in the news on April 30, 1965? The archdiocese plans a Catholic Center in Bloomington, and the pope ends an ornate tradition
Parish Decree: St. Bernadette/Intercultural Ministries Institute
Photos: Nativity dedication (print edition only)
Regular local features:
Rejoice in the Lord: Christ has set us free, and freedom is our responsibility

Alégrense en el Señor: Cristo nos ha librado; velar por la libertad es nuestra responsabilidad

Editorial: The Armenian genocide of 1915
From the Editor Emeritus: Early Church - Where did the 12 Apostles go?
It's All Good: Any day is a good day to express appreciation to others
Faith, Hope and Charity: Vitriol in religious freedom debate contaminates dignity, passion of discussion
Reflection: Remembering Cardinal George
Letters to the Editor

Instead of cutting money to social programs, congressman needs to bring more and better paying jobs to state

Events Calendar

St. Mary youth group in North Vernon hosting Vocations Day on May 22
Catholic Radio Indy golf outing set for May 12 at Plum Creek Golf Club
Father Donald Buchanan invites all to 50th anniversary Mass of Thanksgiving on May 3
SS. Francis and Clare of Assisi School in Greenwood to host Fun Run on May 9
Holy Family Home Educators Conference set for May 15-16 at Marian University in Indianapolis
Change in start time for dedication of Sisters of Providence marker on May 2

Obituaries

General listing
Providence Sister Catherine Arkenberg ministered in education for 39 years, including in Indiana

My Journey to God: From His Heart the Rivers Flow
Catholic News Service:
No boring homilies, pope tells new priests at ordination
Pope prays for quake victims, sends donation, urges solidarity; archdiocesan collection is planned
Holy Father's prayer suggestion: Remember when you first met Jesus in your life
Cardinal George remembered for close relationship with God
Supreme Court considers place of same-sex marriage in states that bar it
Mother and son: Pope Francis shares personal, intimate devotion to Mary
Column: Make an effort to accompany others in times of sorrow
The Sunday Readings: Fifth Sunday of Easter
Question Corner: The Church holds that non-believers can be saved, but still through Christ
FaithAlive!
With spiritual guidance, doubt can lead to a strong faith
Faith, as a supernatural gift, can overcome human doubts
Available Right Now
Immigration is at the heart of 150-year-old St. Patrick Parish in Indianapolis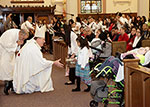 Immigration was the driving force behind St. Patrick Parish in Indianapolis becoming a bustling faith community in the years after it was founded in 1865. At that time, it was a large influx of Irish immigrants to the city in the mid-19th century that gave St. Patrick its name and filled it with a vibrant life of faith. Now, as the parish celebrates its 150th year, immigrants from Mexico and other Latin American countries have continued to breathe new life into St. Patrick during the past two decades. (Page 9)
Read our news story

Special collection to assist Nepal earthquake victims
Archbishop Joseph W. Tobin has approved a special second collection to take place in parishes throughout the archdiocese the weekend of May 2-3 to assist relief efforts for the millions affected by the April 25 earthquake in Nepal. (Page 10)
Read our news story

The joy of Joyce: 92-year-old shares gifts, life lessons and love as volunteer at St. Christopher School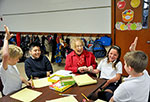 At 92, Rachel Joyce likes to share life lessons—and a humorous threat—when she tutors the third-grade students at St. Christopher School in Indianapolis. Her life lessons to the children include this advice, "We're all going to have bad times. Going to church will help you get through the bad times." As for her humorous threat, she makes it to the children when she thinks they need to commit more time to practicing their multiplication tables. (Page 1)
Read our news story

Web-only features
Videos: Watch the presentations given at the annual Promise to Keep luncheon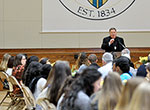 For 20 years, "A Promise to Keep" has helped more than 10,000 archdiocesan teenagers not just keep their promises to live chaste lives, but it's been helping those same teens mentor more than 100,000 junior high students to do the same. Each year, those teenagers are invited to a luncheon in their honor. This year, about 170 of the 374 mentors attended the program at the Archbishop Edward T. O'Meara Catholic Center in Indianapolis on April 16.
See videos from the event | Read our news story
National and world news you may have missed...

Here's a sampling of some news stories that ran on our website this past week or so that you may have missed.
Click the headline to see the story:
© The Criterion 2015 | To unsubscribe, click here
(Please note: Parishes on this list cannot unsubscribe)
1400 N. Meridian Street, Indianapolis, IN 46202
317-236-1577 | 800-382-9836, ext. 1577
webmaster@archindy.org