This week in The Criterion
The latest edition of The Criterion has been printed and is on its way to subscribers! But with this e-newsletter, you'll get a preview of that issue -- and access to certain stories right now.
The contents of this newsletter are:
A listing of the full contents of the print edition
News stories available right now
Web-only features
National and world news you may have missed

(To view this newsletter online, click here)
April 21, 2017 issue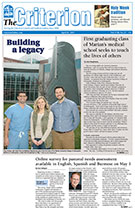 Full Content Preview
Local stories:
Building a legacy: First graduating class of Marian's medical school seeks to touch the lives of others

Faith-filled lives influence young doctor
Faith and medicine intertwine as a result of patient's cancer diagnosis
Catholic high school graduates in medical school's first class

Online survey for pastoral needs assessment available in English, Spanish and Burmese on May 1

Encuesta para evaluar las necesidades pastorales estará disponible por Internet a partir del 1.º de mayo

2017 Race for Vocations team is now accepting new members
Priests renew promises, oils blessed during chrism Mass
Meet our future deacons

Paul Fisherkeller
Charles Giesting

Legislation to enhance access to food assistance heads to governor's desk
Regular local features:
The Face of Mercy: Easter is the season of hope and joy

La Pascua es la temporada de la esperanza y la alegría

Editorial: Christ indeed rose from the dead
From the Editor Emeritus: My studies at the Tantur Ecumenical Institute in Jerusalem
That All May Be One: 'Shall you wash my feet?' A question worth pondering
Worship and Evangelization Outreach: St. John of the Cross, The Impact of God, and spiritual direction
Investing with Faith: Benefiting the Church through charitable trusts
Letters to the Editor

No letters were printed this week

Events Calendar

Camp Rancho Framasa offers one- and three-day family camps on May 13 or 12-14
Providence Food Pantry rummage sale set for April 29 in West Terre Haute
Enrichment day for married and engaged couples on May 6 at Nativity Parish
Benedictine sisters offer summer service opportunity for single women; sign up by May 15
Workshop for ministers of adolescents set for May 2 in Mount St. Francis

Obituaries

General listing
Providence Sister Rita Lerner served in Catholic schools for 43 years
Ruth Meyer, 93, was the mother of Father John Meyer

My Journey to God: My Prayer Necklace
Catholic News Service:
Pope Francis washes feet of 12 prison inmates at Holy Thursday Mass
Risen Christ calls all to follow him on path to life, pope says
Bring peace to a world at the mercy of arms dealers, Pope Francis says
U.S. strike on Syria raises moral questions about civilian security
Vatican stamps mark Pope Benedict's birthday, Church history
Age, ethnicity examined in CARA survey on U.S. Catholics' views of Muslims
Four years after his election, Pope Francis still excites U.S. Jesuit base
Trump signs bill to let states redirect funds away from abortion clinics
Column: The ambiguity of the empty cross
Column: A student newspaper moves away from print to go online
The Sunday Readings: Divine Mercy Sunday
Question Corner: The Church advocates psychological care for those people with gender dysphoria
FaithAlive!
Social encyclical provides wisdom on world issues 50 years later
The Church promotes development that is tied to humanity's eternal destiny
Available Right Now
First graduating class of Marian's medical school seeks to touch the lives of others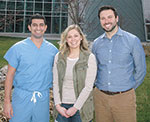 The six young adults are viewed as pioneers, trailblazers—part of a group that will soon earn its place in both the histories of Catholic colleges and medical education in Indiana. The two young women and four young men are all graduates of Catholic high schools in the archdiocese, and on May 7 they will also be part of the first class—of 134 students—to graduate from the Marian University College of Osteopathic Medicine in Indianapolis. Tyler Feldman, Katie Fiori, Maureen McAteer, Tony Rohana, Gregory Specht and Matthew Wysocki all know the history they are part of: how Marian's program is the nation's first osteopathic medical school at a Catholic university, and how it became, in 2013, the first medical school in Indiana to open in 110 years. (Page 1)
Read our news story

Online survey for pastoral needs assessment available in English, Spanish and Burmese on May 1
Beginning on May 1, Catholics across central and southern Indiana can complete an online survey to help provide whoever is appointed the new shepherd of the Archdiocese of Indianapolis a clear picture of the local Church. The survey, which will be available in Burmese, English and Spanish, is part of the archdiocesan pastoral needs assessment that Cardinal Joseph W. Tobin commissioned shortly before his ministry in the archdiocese ended and he was installed as the archbishop of Newark, N.J. "We want to make sure that people know that there is an opportunity to participate in this, and to say what they believe are the strengths and areas for improvement in the Church," said Father Joseph Feltz. (Page 1)
Read our news story | En Español
Web-only features
Photo Gallery: Archdiocesan chrism Mass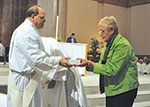 The annual archdiocesan chrism Mass was celebrated during Holy Week on April 11 at SS. Peter and Paul Cathedral in Indianapolis. Oils used in sacraments were blessed and received by representatives of parishes and religious communities across central and southern Indiana. And priests serving in the archdiocese renewed the promises they made at their ordination.
See the photo gallery | Read our news story
National and world news you may have missed...

Here's a sampling of some news stories that ran on our website this past week or so that you may have missed.
Click the headline to see the story:
© The Criterion 2017 | To unsubscribe, click here
(Please note: Parishes on this list cannot unsubscribe)
1400 N. Meridian Street, Indianapolis, IN 46202
317-236-1577 | 800-382-9836, ext. 1577
webmaster@archindy.org