This week in The Criterion
The latest edition of The Criterion has been printed and is on its way to subscribers! But with this e-newsletter, you'll get a preview of that issue -- and access to certain stories right now.
The contents of this newsletter are:
A listing of the full contents of the print edition
News stories available right now
Web-only features
National and world news you may have missed

(To view this newsletter online, click here)
April 11, 2014 issue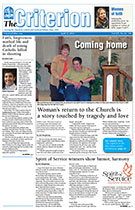 Full Content Preview
Local stories:
Coming home: Woman's return to the Church is a story touched by tragedy and love

'The Light Is on for You' shines across archdiocese

Faith, forgiveness marked life and death of young Catholic killed in shooting
Spirit of Service winners show humor, harmony

Andrew Luck will be featured speaker at Spirit of Service Awards Dinner

Mysteries of God, neighbor, self shape mission of CRS
What was in the news on April 10, 1964? A call to reduce the workload of the Council and worries about the end of Gregorian chant
2014 Indiana Catholic Women's Conference: 'An opportunity to get together as women of faith'
First Latino Cursillo for neighboring dioceses coming in May
Lenten penance services are scheduled at archdiocesan parishes
Regular local features:
Editorial: Pope Francis stresses God's endless mercy
From the Editor Emeritus: Old Testament - God makes his covenant with the Israelites
Cornucopia: Easter is the answer to the human condition
Twenty Something: The big reveal - Looking back at God's plan
Reflection: Faith is a path to find meaning in Nathan Trapuzzano's death
Letters to the Editor

Reader sees little hope for common ground between Church, president

Events Calendar

Sisters of Providence announce services for Holy Week at Saint Mary-of-the-Woods
Sisters of St. Benedict offer triduum retreat at Benedict Inn in Beech Grove
Seminar for those serving in "companion" role in service fields set for April 25 in Indianapolis

Obituaries
My Journey to God: Simon of Cyrene
Catholic News Service:
Pope Francis declares by decree three new saints for the Americas
At border Mass, bishops call for compassion, immigration reform
Pope Francis says married couples are called to be icons of God's love
On 20th anniversary of Rwandan genocide, pope urges reconciliation
Column: A widower reflects on his new world of loss and grief
The Sunday Readings: Sunday of the Lord's Passion (Palm Sunday)
Question Corner: Tradition of meatless Fridays during Lent goes back to earliest centuries of Church
FaithAlive!
Communion of saints inspires us through lives of faith
Saints help both young and old seeking intercession from above
Available Right Now
2014 Indiana Catholic Women's Conference: 'An opportunity to get together as women of faith'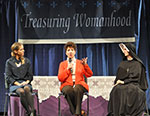 The ninth Indiana Catholic Women's Conference was hosted by the Marian Center of Indianapolis on March 22 at the Indiana Convention Center in Indianapolis. During the event, more than 300 women from central and southern Indiana, and even from Chicago and other areas outside the archdiocese, listened to three powerful speakers: Verily magazine co-founder Janet Sahm; Julia Calandra-Lineberg of the National Center for Padre Pio; and Our Lady of Mercy Sister Caterina Esselen. (Pages 8-9)
Read our news story

'The Light Is on for You' shines across archdiocese
In leading "The Light Is on for You" initiative across the archdiocese, Bishop Christopher J. Coyne believed the spotlight focus on the sacrament of penance would be a success if it deepened the faith of just one person. So he was obviously pleased when he approached St. Simon the Apostle Church in Indianapolis on April 2 and found 20 people already lined up to confess their sins—15 minutes before the scheduled starting time. (Page 10)
Read our news story
Web-only features
Photo Gallery: Funeral Mass for Nathan Trapuzzano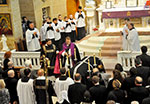 On the morning of April 1, 24-year-old Nathan Trapuzzano—who next month was anticipating the birth of his first child, his first wedding anniversary and his 25th birthday—was shot and killed while taking a walk in his west side Indianapolis neighborhood. His death has raised awareness of a man lauded as a pro-life advocate, a good Catholic and a role model for men. See photos from his funeral Mass and read our coverage of his life and death.
Go to the photo gallery | Read our news stories
National and world news you may have missed...

Here's a sampling of some news stories that ran on our website this past week or so that you may have missed.
Click the headline to see the story:
© The Criterion 2012 | To unsubscribe, click here
(Please note: Parishes on this list cannot unsubscribe)
1400 N. Meridian Street, Indianapolis, IN 46202
317-236-1577 | 800-382-9836, ext. 1577
webmaster@archindy.org