This week in The Criterion
The latest edition of The Criterion has been printed and is on its way to subscribers! But with this e-newsletter, you'll get a preview of that issue -- and access to certain stories right now.
The contents of this newsletter are:
A listing of the full contents of the print edition
News stories available right now
Web-only features
National and world news you may have missed

(To view this newsletter online, click here)
November 27, 2015 issue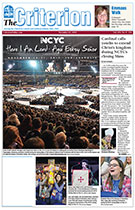 Full Content Preview
Local stories:
National Catholic Youth Conference 2015: Here I am Lord |

Aquí estoy, Señor

Cardinal calls youths to extend Christ's kingdom during NCYC's closing Mass
NCYC helps 'young people have an encounter with Christ,' organizer says
Archbishop Tobin gives charge to archdiocesan youths: 'If today you hear his voice, harden not your heart'
God's love and Mary's 'yes' overcome haunting moments in life, speaker says
Music, humor, wisdom highlight opening general session at youth conference
Youth conference opens teenagers' eyes to variety of vocational paths
Teens encouraged to bring hopes, stresses and fears to the altar of sacrifice
Photo gallery: Youths live out their faith at National Catholic Youth Conference
Youths stand in long lines to experience God's mercy in confession
Extraordinary form of the Mass draws youths into quiet prayer
Young adult siblings return to NCYC to volunteer as a means of 'giving back'
Service opportunities in thematic park engage youths in 'a key part of our faith'
Adoration, Prayer Corner offer opportunity for many forms of prayer
Youths share how faith makes a dramatic difference in their lives
Tree house at theme park will take root at CYO camp in Brown County

Advent penance services are scheduled at archdiocesan parishes

Advent resources are available on archdiocesan Web site

Tell us how mercy and forgiveness have made a difference in your life
Readers are invited to share favorite Christmas memories
Regular local features:
Rejoice in the Lord: 'The days are coming, says the Lord.' Are we ready?

Alégrense en el Señor: '—Vienen días —dice el Señor.' ¿Estamos preparados?

Editorial: NCYC helps young Church grow in their lives of faith
From the Editor Emeritus: Medieval Church - The golden age of papal power
Cornucopia: It's time to really put on our thankful hats and celebrate
Emmaus Walk: Counting my blessings with a sincere gratitude each day
Faith and Family: Penance during Advent can lead to true joy
Reflection: Work with God's help to foster solidarity in the face of terror
Letters to the Editor

No letters were printed this week

Events Calendar

Food and festivities abound at 'Holidays Under the Spires' in Oldenburg on Dec. 5
Advent lessons and carols service planned for Dec. 7 at Saint Meinrad
Sisters of Providence invite all to Advent prayer services, Mass

Obituaries
My Journey to God: Thank You Lord
Catholic News Service:
Faith leaders say refugees require compassion, acceptance
Pornography, politics statements take center stage at bishops' meeting
Column: Parents and sex education
The Sunday Readings: First Sunday of Advent
Question Corner: Buying and selling at parishes permissible but should be done with discretion
FaithAlive!
Advent is a time of waiting in a culture that refuses to wait
Mary is the prime example of patient waiting during Advent season
Available Right Now
Cardinal calls youths to extend Christ's kingdom during NCYC's closing Mass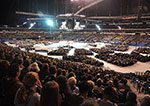 As 23,000 youths from across the country worshipped together during the closing Mass of the National Catholic Conference (NCYC) in Indianapolis, Leanna Long felt "amazingly overwhelmed" to be in the midst of so many people who shared her faith. She attended the conference from her home in North Carolina, where Catholics are a small minority of the overall population. "We know the Church is large," said Leanna, a member of St. Thomas More Parish in Chapel Hill, N.C., in the Raleigh Diocese. "But to be able to see it and know that I'm not alone [is helpful]." (Page 1)
Read our news story | See all our NCYC coverage

Tell us how mercy and forgiveness have made a difference in your life
Pope Francis has declared a "Holy Year of Mercy" in the Church, starting on Dec. 8 and continuing through Nov. 20, 2016. As part of the Holy Year of Mercy, The Criterion is inviting our readers to share their stories of how their lives have been graced by the mercy and forgiveness of God and other people—and how that mercy and forgiveness have made a difference. We are also seeking stories from our readers who have shown mercy and forgiveness to others—and how that act of mercy and forgiveness has made a difference to the person offering it. (Page 2)
Learn more | See our Holy Year of Mercy website

Web-only features
Advent Resources

During the season of Advent, the Archdiocese of Indianapolis will have a special Web page at www.archindy.org/advent. The page contains various Advent resources, including links to the daily readings, Christmas reflections from Archbishop Joseph W. Tobin, penance service schedules, images of past Criterion Christmas Supplement covers and links of interest to other Advent Web sites.
Go to website | Advent penance service listings
National and world news you may have missed...

Here's a sampling of some news stories that ran on our website this past week or so that you may have missed.
Click the headline to see the story:
© The Criterion 2015 | To unsubscribe, click here
(Please note: Parishes on this list cannot unsubscribe)
1400 N. Meridian Street, Indianapolis, IN 46202
317-236-1577 | 800-382-9836, ext. 1577
webmaster@archindy.org