This week in The Criterion
The latest edition of The Criterion has been printed and is on its way to subscribers! But with this e-newsletter, you'll get a preview of that issue -- and access to certain stories right now.
The contents of this newsletter are:
A listing of the full contents of the print edition
News stories available right now
Web-only features
National and world news you may have missed

(To view this newsletter online, click here)
May 20, 2016 issue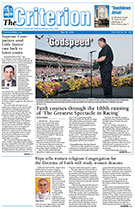 Full Content Preview
Local stories:
'Godspeed': Faith courses through the 100th running of 'The Greatest Spectacle in Racing'

Parishes change Mass times due to holiday weekend and Indianapolis 500 race

Compassion will guide Bethuram as executive director of Catholic Charities
Archbishop Tobin to lead pilgrimage to Notre Dame
Archbishop Tobin notes 'good stewards understand anything we have is a gift' at Miter Society Mass, reception
Mass honors all married couples, where 'Jesus is present in marriage'
Women hope seminar spurs interest to start local Nursing Honor Guard
What was in the news on May 20, 1966? A record number of high school graduates, the role of women in Catholic journalism, and mixed marriage reactions
Regular local features:
Rejoice in the Lord: The face of mercy is the Blessed Trinity

Alégrense en el Señor: La Santísima Trinidad es el rostro de la misericordia

Editorial: Pentecost reminds us that we are never alone
From the Editor Emeritus: Imperiled Church - The 18th century was a disaster
That All May Be One: Spirit's work is evident at gathering on Christian unity
Worship and Evangelization Outreach: We are spiritual beings on a human journey
Letters to the Editor

No letters were printed this week

Events Calendar

Benedict Inn in Beech Grove offers Garden Retreat on June 16
Mary's Garden Party Camp set for June 17-19 in Greenfield

Obituaries
My Journey to God: Your First (and every) Holy Communion
Catholic News Service:
Supreme Court justices send Little Sisters' case back to lower courts
Pope tells women religious Congregation for the Doctrine of Faith will study women deacons
Pope did not say he'd ordain women deacons, spokesman says
Cardinal Wuerl encourages Notre Dame graduates to rely on faith to change world
Obama directive on transgender access to facilities is 'deeply disturbing,' bishops say
Column: Embryos and the '14-day rule'
Column: Take time to celebrate the truly important things in life
The Sunday Readings: The Most Holy Trinity
Question Corner: Assisted suicide violates the sacredness of life and a person's natural dignity
FaithAlive!
Human and theological virtues aid in showing mercy to others
Advice and encouragement on living a life of virtue are found throughout the Bible
Available Right Now
'Godspeed': Faith courses through the 100th running of 'The Greatest Spectacle in Racing'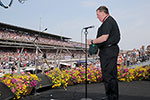 Minutes before 33 race cars roar down the front stretch of the Indianapolis Motor Speedway on May 29 at the start of the 100th running of the Indianapolis 500, silence will envelope the historic track as hundreds of thousands of spectators join Archbishop Joseph W. Tobin in an invocation prayer. Millions more around the world, listening to or watching radio and television broadcasts of the event known as "The Greatest Spectacle in Racing," will hear him pray and say "Godspeed" in the mother tongues of all the drivers. (Page 1)
Read our news story

Mass honors all married couples, where 'Jesus is present in marriage'
Seventy-one years ago, Elbert and Mildred Grannan professed their marital vows in the sacrament of marriage. Four months ago, Daniel and Gabriela Ross did the same. On April 25, the Grannans and Rosses again professed those vows—along with 89 other couples from parishes across central and southern Indiana—during the Marriage Day Mass at SS. Peter and Paul Cathedral in Indianapolis. The Mass and reception that followed were sponsored by the archdiocesan Office of Pro-Life and Family Life to recognize the presence of Christ in the sacrament of marriage. (Pages 10)
Read our news story
Web-only features
"Catholic News Around Indiana" online archive

The Catholic newspapers of the five dioceses of Indiana -- Evansville, Fort Wayne-South Bend, Gary, Indianapolis and Lafayette -- have agreed to share news stories with each other on a regular basis. Sometimes these new stories appear in the print edition of The Criterion, while many more appear on our website. Get all the stories in our "Catholic News Around Indiana" online archive.
Go to our Indiana Catholic news page
National and world news you may have missed...

Here's a sampling of some news stories that ran on our website this past week or so that you may have missed.
Click the headline to see the story:
© The Criterion 2016 | To unsubscribe, click here
(Please note: Parishes on this list cannot unsubscribe)
1400 N. Meridian Street, Indianapolis, IN 46202
317-236-1577 | 800-382-9836, ext. 1577
webmaster@archindy.org