This week in The Criterion
The latest edition of The Criterion has been printed and is on its way to subscribers! But with this e-newsletter, you'll get a preview of that issue -- and access to certain stories right now.
The contents of this newsletter are:
A listing of the full contents of the print edition
News stories available right now
Web-only features
National and world news you may have missed

(To view this newsletter online, click here)
August 12, 2016 issue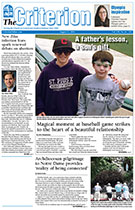 Full Content Preview
Local stories:
Magical moment at baseball game strikes to the heart of a beautiful relationship
Archdiocesan pilgrimage to Notre Dame provides 'reality of being connected'
Saint Meinrad monks celebrate jubilees of monastic profession
What was in the news on August 12, 1966? Race violence affects a nun, parish holds a 'Beatle Burning' protest rally, and the council that never was
Grant applications for funds from three endowments are due by Oct. 31
Regular local features:
Rejoice in the Lord: Pope Francis asks: 'Where are our children?'

Alégrense en el Señor: El papa Francisco nos pregunta: '¿Dónde están los hijos?'

Editorial: Refugee team offers testimony to the true spirit of Olympics
From the Editor Emeritus: 20th-century Church - Vatican City State established
Cornucopia: Remembering the wry northern sense of humor
Twenty Something: Olympic inspiration - waiting for that unifying moment
Letters to the Editor

Senator's thinking, actions do not jibe with his Catholic faith, reader says

Events Calendar

Vocation discernment panel discussion set for Aug. 25 at Holy Rosary Parish
Sisters of the Living Word to host three hands-on discernment experiences this fall
Sisters of St. Benedict offer Taizé service for peace and mercy on Aug. 18
All catechists invited to day of formation on Sept. 10 at St. Agnes in Nashville

Obituaries
My Journey to God: Ebony and Pearl
Catholic News Service:
New Zika infection fears spark renewed debate on abortion
Patience hailed as a virtue at eucharistic congress' closing Mass
Mercy, poor at center of Blessed Teresa's canonization events
Vatican prepares 'St. Teresa' of Kolkata stamp for release
The devil's in the details: After-school Satan club seeks OK in several states
Biden called 'counter-witness' to Church teaching for presiding at wedding
5,600-plus religious sisters call for civility by candidates in 2016 presidential race
Pakistani Church deplores suicide blast at Quetta hospital
Forgive others and find peace, pope says during brief visit to Assisi
Body found in river near Wichita park identified as missing seminarian
Little Sisters provincial accepts highest award from Knights of Columbus
Pope Francis: Encounter with suffering makes people authentic witnesses of truth
Parish guide on ecology gives practical ideas to combat climate change
Column: I have met hope … in person
Column: Micah, Xavier—what's in a name? Plenty, if we look
The Sunday Readings: Twentieth Sunday in Ordinary Time
Question Corner: The Church encourages participation in ecumenical and interfaith prayer services
Available Right Now
Magical moment at baseball game strikes to the heart of a beautiful relationship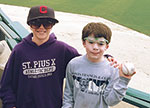 For nearly everyone who goes to a professional baseball game, the great hope is to come home with a souvenir baseball that was used on the field. Having that hope become a reality is even more thrilling when you're 12 and your favorite sport is baseball—a passion that you learned from and share with your father. Which makes the story of what Brendan McCormick did at an Indianapolis Indians' game this season so special. And it becomes even more heartwarming when you learn about Brendan and his dad. (Page 1)
Read our news story

Archdiocesan pilgrimage to Notre Dame provides 'reality of being connected'
It is said to have been a bitterly cold day on Nov. 26, 1842, when Holy Cross Father Edward Sorin arrived on the 524 acres in northern Indiana he'd been given by the bishop of the Vincennes Diocese to start a Catholic institute of higher learning. Almost 175 years later on July 19, Archbishop Joseph W. Tobin and 51 other pilgrims from central and southern Indiana stood on the spot where Father Sorin named what is now the internationally acclaimed University of Notre Dame. (Page 1)
Read our news story
Web-only features
Bonus features from the Notre Dame Pilgrimage
See a video in which Archbishop Joseph W. Tobin discusses why the University of Notre Dame is a pilgrimage spot; also, look at a group of photos taken from the recent archdiocesan pilgrimage to Notre Dame in July.
See our photo gallery | Watch a video of Archbishop Tobin
National and world news you may have missed...

Here's a sampling of some news stories that ran on our website this past week or so that you may have missed.
Click the headline to see the story:
© The Criterion 2016 | To unsubscribe, click here
(Please note: Parishes on this list cannot unsubscribe)
1400 N. Meridian Street, Indianapolis, IN 46202
317-236-1577 | 800-382-9836, ext. 1577
webmaster@archindy.org