This week in The Criterion
The latest edition of The Criterion has been printed and is on its way to subscribers! But with this e-newsletter, you'll get a preview of that issue -- and access to certain stories right now.
The contents of this newsletter are:
A listing of the full contents of the print edition
News stories available right now
Web-only features

(To view this newsletter online, click here)
May 4, 2018 issue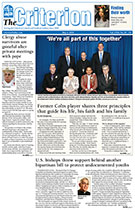 Full Content Preview
Local stories:
'We're all part of this together': Former Colts player shares three principles that guide his life, his faith and his family

Helping others at the heart of Spirit of Service winners' lives of faith

Youth-designed retreat reminds teens they are 'priceless' to God
Photos: Faith, worship and service (print edition only)
Photos: Cultural fun (print edition only)
From the Archives: Confirmation at St. Paul the Apostle Parish in Greencastle
Regular local features:
Christ the Cornerstone: 50 years later, 'Humanae Vitae' is still prophetic

Cristo, la piedra angular: Cincuenta años después de publicada, 'Humanae Vitae' sigue siendo profética

Editorial: Poll shows need for evangelization
From the Editor Emeritus: Eddie Doherty - Newspaperman, author, three marriages, priest
Cornucopia: Immigrants are not the issue, but attitude toward them is
It's All Good: When it comes to our faith and Creator, our children are listening
Reflection: Respect God's plan for putting care of children in the hands of parents
Public Schedule of Archbishop Charles C. Thompson
Letters to the Editor

Tragic case of British toddler shows without a 'right,' things go very wrong, reader says

Events Calendar

Free dental care being offered in Indianapolis, Terre Haute on May 20
Colts' GM Chris Ballard to speak at Catholic Radio Indy golf outing on May 22
5K family and pet walk to benefit Catholic Charities Indianapolis on May 20
Katie's 5K Walk for Hope planned at Roncalli High School on May 19

Obituaries

General listing
Kenneth Boehm, 59, father of Father Dustin Boehm, died on April 20

My Journey to God: Praying with the Gospels - The Tears of a Sinner
Catholic News Service:
Clergy abuse survivors are grateful after private meetings with pope
U.S. bishops throw support behind another bipartisan bill to protect undocumented youths
Pope asks Catholics to pray rosary for peace each day in May
Cardinal Pell ordered to stand trial on abuse charges in Australia
New Pittsburgh Diocese plan will see number of parishes drop from 188 to 57
Woman maps the worldwide Church, helping it serve its mission
Nun who protests 'immoral' nuclear weapons is focus of film
Baltimore Catholic school removes Cosby name from building
Pope Francis, others mourn death of British toddler Alfie Evans
Demonizing immigrants hardens American heart, says cardinal
Pope: Without love and service, Church is just an 'empty institution'
Dismissal of Catholic House of Representatives chaplain sparks outrage
Column: At the marketplace of culture
The Sunday Readings: Sixth Sunday of Easter
Question Corner: Accommodation can be made for worshippers affected by incense
FaithAlive!
Engaged couples should discuss habits to build up virtues
Married couples are signs of Christ's mystical union with the Church
Available Right Now
Former Colts player shares three principles that guide his life, his faith and his family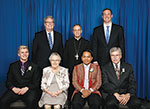 In a moment, Joe Reitz would tell the story of his memorable first meeting with Peyton Manning to the audience at the archdiocese's Spirit of Service Awards Dinner in Indianapolis. But first, the former Indianapolis Colts offensive lineman shared the story of one of the most difficult times of his life. It happened in early September of 2010. For two years, Reitz had been living the unlikely dream of being a former college basketball player who had made the transition to playing in the National Football League (NFL). Yet after being a member of the Baltimore Ravens, Reitz was cut from the team, leaving him feeling devastated that his career in the NFL was coming to an unexpected end. (Page 1)
Read our news story

Youth-designed retreat reminds teens they are 'priceless' to God
Sometimes, simple ideas develop into grand projects. And sometimes, the result of such projects have a tremendous impact on others. Take Anna Scott, a 17-year-old‑member of St. Malachy Parish in Brownsburg. A simple "lock-in" idea she had for high school girls of the parish turned into a 24-hour ecumenical retreat reminding 27 young women of their infinite worth—not based on boyfriends or social status, but on their value in God's eyes. She named the retreat "Priceless." (Page 7)
Read our news story

From the Archives: Confirmation at St. Paul the Apostle Parish in Greencastle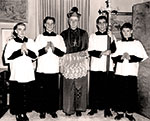 Following a confirmation liturgy, Archbishop Paul C. Schulte posed for a photograph with altar servers at St. Paul the Apostle Parish in Greencastle on March 2, 1959. From left to right in the photo are Pat Harrold, left, Bobby Tennis, Archbishop Schulte, Fleck Conrad and Paul Harrold. This photo originally appeared in the Putnam County Graphic newspaper. (Page 16)
See our feature
Web-only features
Follow us on Twitter

Get up-to-the-minute notifications on breaking news and headlines via our Twitter page (twitter.com/criteriononline). The page features not only news and links to our own website, but also news of interest found by our online editor from other Catholic publications and websites.
Visit our Twitter page
© The Criterion 2018 | To unsubscribe, click here
(Please note: Parishes on this list cannot unsubscribe)
1400 N. Meridian Street, Indianapolis, IN 46202
317-236-1577 | 800-382-9836, ext. 1577
webmaster@archindy.org