This week in The Criterion
The latest edition of The Criterion has been printed and is on its way to subscribers! But with this e-newsletter, you'll get a preview of that issue -- and access to certain stories right now.
The contents of this newsletter are:
A listing of the full contents of the print edition
News stories available right now
Web-only features

(To view this newsletter online, click here)
December 15, 2017 issue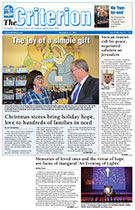 Full Content Preview
Local stories:
The joy of a simple gift: Christmas stores bring holiday hope, love to hundreds of families in need
Memories of loved ones and the virtue of hope are focus of inaugural 'An Evening of Lights'
Donors can still make contribution to Indiana Tax Credit Scholarship program
SS. Peter and Paul Cathedral and Saint Meinrad announce Christmas liturgies
800 years later, Franciscans still make a difference in the Holy Land
From the Archives: St. Pius X Girls' Track Team
Regular local features:
Christ the Cornerstone: Rejoice always! And pray without ceasing

Cristo, la piedra angular: ¡Alégrense siempre! Y oren sin cesar

The Face of Mercy: Finding Jesus this Christmas while attending to others

El rostro de la misericordia: Encontrar a Jesús en la Navidad y cuidar a los demás

Editorial: Waiting in joyful hope, Advent brings out the best in us
From the Editor Emeritus: William Rosecrans almost became our first Catholic president
That All May Be One: Annual worship service offers chance for faiths to be one in prayer
Worship and Evangelization Outreach: 'An Advent Dialogue with the Sick'
Investing with Faith: Endowment distributions fulfill response to social teaching
Reflection: Catholic Energies can help parishes live 'Laudato Si'
Public Schedule of Archbishop Charles C. Thompson
Letters to the Editor

No amount of gun legislation will change current culture of death, reader says

Events Calendar

St. Philip Neri Parish to host Christian-Muslim prayer service on Dec. 17

Obituaries

General listing
Franciscan Sister Stephanie Zimmer served in Catholic schools for 28 years

My Journey to God: Juan Diego, Cuauhtlatohuac, "The Eagle Who Speaks"
Catholic News Service:
Vatican renews call for peace, negotiated solution on Jerusalem
Pope: God does not lead us into temptation, Satan does
No dispensation for this year's Christmas Mass on Monday
Washington Archdiocese considers next step in lawsuit over transit advertisement
Some see crunch time, others negotiation time, for immigration woes
Iraq archbishop, Pence meet to discuss plight of persecuted Christians
Indiana town embodies Santa Claus and his spirit of love, peace, joy
Don't wait to be perfect to answer vocational call, Pope Francis says
Column: Truly celebrate Christmas by becoming fully absorbed in its meaning
The Sunday Readings: Third Sunday of Advent
Question Corner: The Church allows non-Catholic people to be buried in Catholic cemeteries
FaithAlive!
Inner joy can nurture us in busy days before Christmas
Encountering Christ in Advent brings joy and peace beyond understanding
Available Right Now
The joy of a simple gift: Christmas stores bring holiday hope, love to hundreds of families in need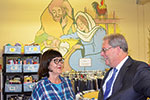 The story is one of Nancy Hollinden's favorites from the Christmas season. Actually, this touching scene happened the day after a Christmas when Hollinden and her fellow year‑round volunteers helped to make the holiday special for 800 families in need—including providing clothes and two toys for every child in these families. "I was shopping at Walmart on the day after Christmas—because that's when you get the great bargains—and I had a huge shopping cart full of things for the Christmas Store," recalls Hollinden, a member of St. Barnabas Parish in Indianapolis. "The gentleman who was checking me out inquired about my large amount of stuff. I told him I was buying for a charity, and we give these gifts to children at Christmas. "He said, 'Oh, I was one of those kids. I want you to know that my whole life long, I never, ever got anything for Christmas except from someone like you. You are doing a wonderful thing.' " (Page 1)
Read our news story

Memories of loved ones and the virtue of hope are focus of inaugural 'An Evening of Lights'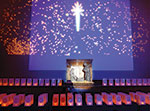 Advent is a season of hope, and our hope resides in something beyond what the world can offer, something beyond any given moment in this life. And unlike the secular world where many people think of hope as wishful thinking or feeling, our faith teaches us that it is one of three theological virtues—along with faith and love. "As the Catechism [of the Catholic Church] reminds us, … these three virtues are the foundation of all other virtues," said Archbishop Charles C. Thompson to approximately 200 people during the inaugural "An Evening of Lights" program on Dec. 7 in Assembly Hall at the Archbishop Edward T. O'Meara Catholic Center in Indianapolis sponsored by the archdiocesan Catholic Community Foundation (CCF). (Page 1)
Read our news story

SS. Peter and Paul Cathedral and Saint Meinrad announce Christmas liturgies
The Christmas liturgical schedules for SS. Peter and Paul Cathedral, 1347 N. Meridian St., in Indianapolis, and the Archabbey Church of Our Lady of Einsiedeln of Saint Meinrad Archabbey in St. Meinrad, have been announced. (Page 2)
Read our news story
Web-only features
Advent Resources

During the season of Advent, the Archdiocese of Indianapolis will have a special Web page at www.archindy.org/advent. The page contains various Advent resources, including links to the daily readings, Christmas reflections from two of our former archbishops, penance service schedules, images of past Criterion Christmas Supplement covers and links of interest to other Advent Web sites.
Go to website | Advent penance service listings
© The Criterion 2017 | To unsubscribe, click here
(Please note: Parishes on this list cannot unsubscribe)
1400 N. Meridian Street, Indianapolis, IN 46202
317-236-1577 | 800-382-9836, ext. 1577
webmaster@archindy.org